Which Interior Paint Colors Are Right For You?
Thinking of splashing a few interior paint colors on those drab white walls, but not sure if you should or which colors are right for you? Well, there are good reasons to bring color into your home.
First, interior paint colors have an incredible effect on mood, attitude, and general outlook...
For example, there is a good reason that your local grocer uses lots of bright green color. In the food business, green is symbolic of good health and fresh food, thereby putting you in a positive mind set for filling your shopping cart.
I dare say that if your grocer replaced green with brown or black, it would have a noticeably negative effect on her sales.
Second, interior paint colors can enhance the beauty of furniture and furnishings. A blue wall will enliven an area rug that has subtle hints of the same shade of blue. Cherry furniture will take on an even richer look against the backdrop of green walls.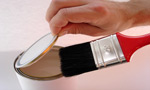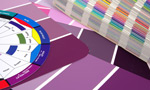 Third, paint is one of the least expensive and best home interior decorating techniques to bring a room to life.
However, let's not move too fast. Before you rush out and buy your favorite paint color, you have to ask yourself one question. It is...
"What mood do I want to create in this room?"Do you want it to feel warm and cozy? Or maybe you prefer lively and cheerful?
Your answer is very important because it will determine which side of the color spectrum matches your style and personality.
Paint Color Basics
I won't bore you will all the technical details surrounding color. To keep things simple for decorating purposes, just know that interior paint colors fall into three categories…soft colors, hard colors, and earth-tone colors.
Soft colors (also known as "cool" colors) include violet, blue and green. These interior paint colors don't demand that your eyes focus on them when you walk into a room...
As such they are psychologically soothing and tend to create a quiet mood. In addition, soft colors will make a room appear to be more airy and larger. Blue-green is considered to be the "coolest" color.
Hard colors (also known as "warm" colors) include red, orange, and yellow. These are bright colors that focus the eye and have a psychological warming effect.
If you want a room that conveys energy and cheerfulness, and encourages social interaction, these are the interior paint colors for you. Red-orange is the "warmest" color.
Earth-tone colors include brown, beige, gray, and taupe. These are very subdued interior paint colors, but can be quite useful in helping to create a very elegant and sophisticated look.
However, they need textural touches to bring them out, otherwise they can become too quiet and bland. Consider enlivening them with stenciled borders, wallpaper, or rich fabrics, or try some of the very impressive textured paints such as Ralph Lauren Suede and River Rock.
Of course, these days interior paint colors are described in every imaginable way and many are a mixture of hard, soft, and earth-tone colors. Examine them carefully and you'll find that they will fit in one of the above categories better than another.
A mixture generally results in the color moving away from the psychological extreme.
If you'd like to get more insight about the psychological impact of color, check out this great video. I think the tips on which colors are better suited to each room in your home will be of particular interest and value to you.
Your Paint Color Decision
Unless you are very comfortable with your color selection, I would recommend that you NOT apply the brightest shade of any color to a large area.
This is especially true for the "hard" colors (yellow, orange, and red).
Certain interior paint colors such as bright yellow have even been known to increase anxiety and raise the blood pressure in some people. You would be much better off using a soft yellow.
In fact when you are selecting interior paint colors, start with the most neutral shade for a particular color...
For example, if you walk into any paint store and ask for red paint there will likely be six or seven shades. Pick the shade in the middle of the bunch. It will be the most neutral and easiest to coordinate with your furniture and furnishings.
Ask the sales person for help if you are having trouble finding the shade you want. But the video below will give you a great advice on how to select paint colors and mistakes you should avoid. You'll learn the key steps to choosing a color.
For example the first step is deciding on a general color concept, meaning do you want to go with something very subdued or a wow color. Step two is determining if you should go with a lighter or darker shade within your color family....and so on.
But what I liked about the video is what you should do before you ever think about going to the paint store to select your color. The technique that the interior designer uses will make your life a lot easier. And be sure to take the "Color Personality Test" at the end of the video. It'll help you in choosing your perfect color.
Ready-Made Paint Color Schemes
But, if you feel that you just don't have the eye for matching colors or don't have the time, then you may want to check out the eBook, Awaken Your Interior Designer. It gives you 135 ready-to-go paint color schemes along with the paint brands/manufacturers. You also get ideas for which interior paint color combinations are most suited to your decorating style.
For another frustration-free technique that I use for picking the perfect paint color every time, click here... Interior Painting Ideas
An excellent source for viewing paint swatches online is DecorateTogether.com. There is an "interactive color palette".

If you'd like more information and ideas related to this topic, please check out the resources listed below. Additionally, please click on the Facebook or Twitter button below to share these tips if you know someone who could benefit.
Related Products - Interior Paint Colors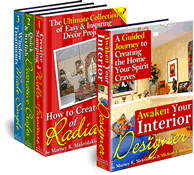 (1) *NEW* The Awaken Your Interior Designer! Collection - Brought to you by Home Decorating Made Easy, this first of its kind collection of interactive guidebooks is filled with unique advice and quizzes for helping you identify your perfect interior paint colors. Not only that, there are 135 paint color schemes right at your finger tips. You even get the paint brands/manufacturers!

BACK to the home page for more great home decorating ideas!
And to share these tips about interior paint colors, click on the Facebook and Twitter buttons below.