Guest Bedroom Decorating Ideas To Create A Comfortable Oasis
________________________________________________
_________________________________________________
Don't allow your bedroom decorating ideas to end with your master bedroom. After all, you do plan on having guests every now and then, don't you?
  I know what you're thinking…Decorate a guest bedroom? Invite them to stay as long as they want? This guy must be nuts. :-)
Well, if you live in an inviting place like do in Florida, friends and family are going to show up anyway. So why not make their visit as comfortable and memorable as possible?
Actually, it's not that hard to create a guest bedroom that has the look and feel of a luxurious hotel suite. And in fact, these decorating ideas can and should be applied to any bedroom.
Use the guest bedroom decorating ideas below to welcome your visitors with open arms and make their stay very comfortable. I've also included a picture of my guest bedroom (the larger image farther below) to give you a few more ideas.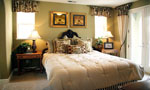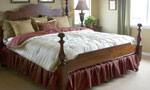 Also, when you're done, come back and click on this link if you wish to see my master bedroom… Romantic Bedroom Decorating Ideas.
In the meantime, check out the bedroom decorating advice in this short video for a bit of inspiration before we move on.
Bedroom Decorating Ideas for Furniture
Guest bedrooms are smaller than master bedrooms and in many cases space is at a premium. They may also double as home offices. Therefore, the size of the bed you choose is important because you'll need space for other furniture pieces such as side tables.
If you're confronted with a small space, here are a few options for a bed:
Day bed - these are compact and somewhat narrow beds that are typically placed along a wall to save space.
Murphy (Wall) bed - these are full size beds that fold up against a wall. Nowadays they come with their own attractive cabinets. This is a great choice if your guest bedroom is also an office.

Sofa bed - this is exactly as it sounds…a sofa that hides a pull-out bed.
Bedroom Interior Decorating Ideas for Linens
Treat your guests to luxurious linens. At a minimum, your guest bed should have a comforter or duvet cover. You should also have two sets of sheets for the bed. A thread count of 180-200 is standard for sheets and 350 is pure luxury. Get 100% cotton because it lets the body breathe.
In addition to two standard pillows, dress your guest bed with warm touches. Start by propping two or more of the large, square-shaped, European-sized pillows against the headboard. (Note: Two pillows should be enough for a full or queen size bed, but you will likely need three for a king.)
They will look nicely behind rectangular pillows. Add texture and dimension by using various shaped small pillows covered in different weaves, finishes, laces, and tapestry.
Finally, top your guest bed with a featherbed, the ultimate in bedding luxury. Trust me, this is one bedroom decorating idea that will win you lots of compliments.
Before I move to the next section, take a look at my eclectically decorated guest bedroom in the picture below for a few more bedroom decorating ideas.
If you've browsed other rooms on this site for home interior decorating ideas, then you know that I like earthy colors and hues. This guest bedroom is no exception.
The room has a full-size bed that is well equipped. The painted stripes give the room life and help to balance the weighty log-like headboard. The mirror and steer horns round out this room's eclectic character.
If you'd like to add a bit of flair to one wall or a whole room, I recommend that you give rubber stamping a try. The techniques are so easy, but the results can be stunning. To learn more, visit our eBookstore and check out our eBook called Creative Stamping for Walls & Furniture.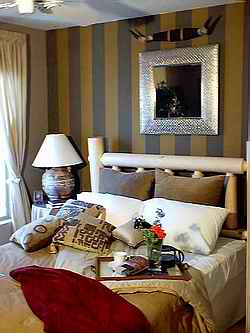 ---
Bedroom Decorating Ideas for Amenities
The best way to determine which amenities should be placed in your guest bedroom is to put yourself in your guest's shoes. At a minimum, I suggest that you have a reading lamp. Then, consider adding some of these creature comforts:
Clock
Radio
Television
Telephone
Fresh flowers
Books
Small stereo system/portable CD player
A welcome basket filled with fruits, nuts, and chocolates.
Framed art
For prints and posters on virtually any subject, I recommend that you visit
All Posters.
They have a huge selection and will even frame your choice.
To add a personal touch to the room, why not include a couple of easy do-it-yourself crafts? You'll find some great bedroom decorating crafts in our book Quick & Stylish Decorative Crafts.
Bedroom Decorating Ideas for Storage
I don't know if this has happened to you when you've visited someone's home, but it has happened to me on more than one occasion…
As I unpacked my luggage and opened the closet doors, I was faced with trying to find a sliver of space between someone's winter wear and other clothing that they just couldn't seem to part with.
My next challenge was dealing with flimsy wire hangers that I knew weren't going to hold my jackets and pants very well.
It took a couple of trips, but I've learned my lesson. Now, my guest closet has plenty of storage space and I've included lots of sturdy hangers. I encourage you to examine your closet to see if it measures up. The same is true for any dressers and chests that you make available for storage as well.
For even more guest bedroom decorating tips, watch the following video.
What I liked about the video were the tips for making the bedroom a bit more special during holidays. And with just a little creativity, you can adapt those simple suggestions to fit any holiday or time of the year.
If you enjoyed these guest bedroom decorating ideas and believe they could benefit someone else, please click on Facebook or Twitter buttons below and share them with friends. In addition, if you would like more information on bedroom interior decorating, please check out the resource links listed below.
More Bedroom Interior Decorating Ideas - Recommended Reading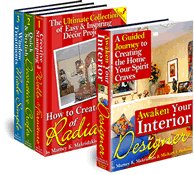 (1) *NEW* The Awaken Your Interior Designer! Collection - Brought to you by Home Decorating Made Easy, this first of its kind collection of interactive guidebooks is filled with lots of great bedroom interior decorating ideas. Create the warm, inviting bedroom of your dreams, easier and faster than ever before, without spending lots of money.
"These books are wonderful! The spirit that infuses them is loving and joyful, and the tips they offer are concrete and easy to implement. Suggestions, skills, and systematic approaches combine to make a fun read and a useful guidebook. You can get moving toward the home of your dreams right now!"

- Robin Kreutzberg
Paradise Valley, AZ
Click on this link for more
decorating ideas for bedrooms
and click here for more great ideas to help you with your
home decorating!