Use Home Decorating Accessories To Tell
Your Story
__________________________________________
___________________________________________
Home decorating accessories include numerous furnishings such as: pictures, paintings, and mirrors for your walls; sculptures and vases for tables and display shelves; decorative pillows and throws for sofas and chairs; and plants and rugs for your floors.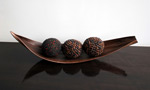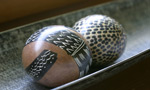 Have you ever noticed that after the walls have been painted, furniture arranged, and drapes hung…there still seemed to be something missing?...
What was lacking were the home decorating accessories that tell the story of who you are, what and whom you love, and where you've been. Without these personal touches, your room will feel unfinished and cold.
However, accessorizing your home does more than tell others about your personality, it also aids in creating warmth and conveying a sense of comfort.
But before you rush out and buy additional home decorating accessories, use the information below to first help you organize what you have and then to decide what you might need.
Getting Started
So, how and where do you start? First go from room to room and list or gather the things you currently own that might work as home decorating accessories.
Also, be sure to retrieve items such as pictures and keepsakes that may be stored in your attic or garage. Pull out objects that you've made yourself.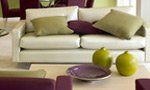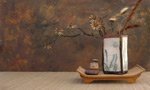 Finally, look for unusual or unexpected home decorating accessories to really convey your style.
After you've sorted through your personal belongings, you may find that you still need several more complementary home decorating accessories. Don't worry, it's okay to take your time in finding them...
After all, the search will be half the fun. On the other hand, you may lay out what you have and immediately know what home decorating accessories are required to complete a particular ensemble or motif.

____________________________________________
_____________________________________________
Tackle Your Focal Points First
The most important area in each of your rooms is the focal point. This is the place to which someone's eyes are immediately drawn when they walk into a room.
You'll want to accessorize this area first.
As an example, let's say that a fireplace is the focal point in your living room. Your personal touch might be to hang a beautifully framed painting (with a picture light) or mirror above it...
Then place two identical home decorating accessories, such as porcelain vases that you've collected, on either side of the mantel.
The main point to remember is to display only what is necessary. Avoid the temptation to display too many items that would create a cluttered look and weaken the drama and impact.
In my living room, an armoire is the designated focal point. The vaulted ceilings peak at 17 feet, so tall vases and candleholders were placed on top of it to provide additional height.
A decorative box and plate were added to round out a motif that would be pleasing to the eye. The little gargoyle is simply a reminder that decorating is supposed to be fun :-).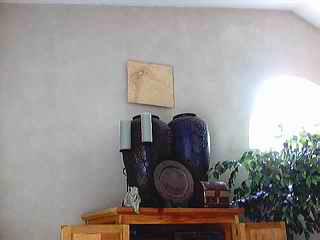 Tell Your Story
Home decorating accessories, like art, are a matter of personal taste. They don't have to be museum quality, but they should be decorative.
And even if you're just getting started, you probably already have a lot of what you need. Use the techniques and ideas below to help deliver your personal statement.
Group objects by theme (animal figurines, collectible plates), material (silver, porcelain) or color. A group is always more eye-catching and dramatic than sprinkling items throughout the room. And the more tightly related the items, the stronger your personal statement. Remember to vary your shapes as well.


Gather a collection of 8, 10 or more family photographs and enlarge them. Then put them in frames of different sizes, and arrange them on the same wall in an interesting way. For added effect, have the photographs reproduced in black and white.
Transform a blank corner into a colorful backdrop by setting a floor screen there.
Use plants to add warmth to a room. But if don't have a green thumb, seek out high quality silk versions. They will last forever and can be cleaned by simply dusting them periodically. Also consider placing silk trees in some rooms for a dramatic effect..
Hang a framed mirror on a wall instead of a picture. Mirrors are a decorator's dream because they can enhance a room in two important ways.

First, they reflect what's in front of them and add sparkle by amplifying light. Second, they make a room look larger. Try positioning your mirrors to reflect an interesting view from a window or above a mantel to strengthen a focal point.

Drape a throw or afghan over a large chair sofa to add a splash of color and texture. Throws and afghans are readily available and come in a variety of fabrics including wool and cotton.
Use decorative toss pillows to convey a sense of comfort to a room. Feel free to try a mix of patterns, fabrics, and pillow sizes. However, stick to a dominant unifying color.

Place baskets on top of armoires, cabinets, and display shelves if a more casual or earthy feel is what you're after.
Display a treasured collectible in a shadow box and hang it on the wall. This is a wonderful attention-grabber and adds depth to a room.
Place small decorative boxes throughout your home for an artistic touch. Many of these boxes have very ornate designs and come in numerous shapes and sizes. There are boxes to complement every decorating style. Display them on tables, shelves, or anywhere for added dimension.
Hang a beautifully framed print above your fireplace or group three or four prints together in the same type of frames. Hang what you love. Which types of pictures energize you or calm you? Display images that reflect your personality, thoughts, dreams, and memories.

All Posters offers prints on virtually any topic that comes to mind. I recommend that you browse their catalog for ideas.

If you could use some advice on framing, hanging, and arranging wall art, click here.



Lay an area rug on your floor to define each conversation area. The rug should be large enough so that each piece of furniture in the conversation area rests on the rug, partially or fully.

Try placing the rug at angle to make a bold statement. (Note: Most decorators prefer oriental rugs because of the wide selection of colors and patterns.) If your decorating style leans toward very Casual, be careful with selecting oriental rugs because they tend to be very ornate. A simple pattern may work just fine, but an intricate pattern may be overpowering and dominate your room.
I hope this information on home decorating accessories has been helpful. For more information on this topic, visit the following links.
If you'd like to explore more excellent books on this topic, please check out the recommended resource links listed below.
Suggested Home Decorating Books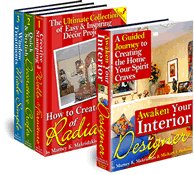 Covers home decorating accessories and more...The Awaken Your Interior Designer! Collection Brought to you by Home Decorating Made Easy, this first of its kind collection of interactive guidebooks is guaranteed to help you decorate any room in your home faster and easier than ever before -- using your existing home decorating accessories and furnishings. Create a beautiful rooms that matches your families lifestyle without spending lots of money. Filled with lots home decorating tips and color photos of "REAL" homes.

For more advice about home decorating accessories and making over the rooms in your home, click here home decorating!