Zen Decor A Calming Influence In Anxious Times
by Scarlett
(Houston,Texas)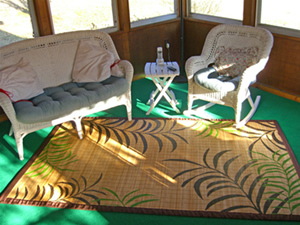 In this Blackberry-prone world of incessant communication, a sense of serenity is a priceless commodity. Some of the most hard-charging workers in today's society are finding that the creation of a home space based on Zen decor has become essential to their physical, emotional and mental well being.

To begin with, what exactly is Zen decor? This decorating style is one of the many Asian influences that have blended with Western-style interior decor over the past 50 years. Zen refers to a form of Mahayana Buddhism that emerged about 1,500 years ago in China. The Chinese refer to this form as "Ch'an" Buddhism, a Chinese phrase similar to the Sanskrit word "dhyana," which means, "a mind absorbed in meditation." Zen decor seeks to create a simple and serene home environment that will enhance tranquil meditation.

The elements of authentic Zen decor include simplicity, neutrality and nature in many forms. Philosophically, the decor attempts to render physically the minimalism and serenity that results from the practice of Zen meditation.

Here are some guidelines for creating a Zen room:

First, clean and organize the room, because a Zen space brooks no clutter and little ornamentation. Anyone who prefers a room crammed with accessories, mementos, souvenirs and other collectibles is not a good candidate for Zen decor.

Next, select a warm, neutral color scheme. Think in terms of soft mossy greens and stony tans, grays and beiges. Deep jewel tones or bright primary colors are too energetic for the intended calm of a Zen decor.

Humility forms a key element of Zen, so furniture should also express humble connections to the earth. Low furniture in Modern or Asian styles, such as a futon, some low tables and cushions represent this quality best.

Recessed lighting works perfectly for Zen design because such fixtures are streamlined, uncluttered and not intrusive. Recessed fixtures give light without calling attention to themselves, which in Zen philosophy is an ideal marriage of form and function. However, a reading lamp also will be needed for study and meditation. Asian-style lamps with plain forms and round shades made of rice paper complement the decor well.

Few accessories are needed in Zen design, but the few that are included are of particular quality. For instance, the Chinese find one of their greatest inventions, silk, to be pleasing to the eye, the touch and the soul. Pillows covered in silk fabrics of soft colors would show this design principle. In addition, shoji screens can serve to divide the Zen space from another part of the room, or to hide items that might clash with the design.

Nature in a Zen decorating scheme can be represented by natural elements such as stone or wooden flooring topped by sisal rugs or woven reed area rugs. Collections of smooth stones and bamboo plants in earth-colored pottery bring the outdoors inside. Most of all, the room should have some form of moving water, prized for its calming sound. The water feature may be a central pool, or it can be a small tabletop fountain, but it should be an essential part of the design.

Natural light also is an integral part of Zen room design. Window coverings may be nothing more than plain sheers in white, ivory or natural, or they may flank bamboo blinds for greater privacy.

Ultimately, the minimalist design of a Zen decor is meant to calm body, mind and spirit. A Zen room can be the ideal retreat from today's hectic pace of life.

Senior staff writer Scarlett offers a wealth of creative tips on home decorating and loves the idea of a "zen" room. She likes to use rugs and particularly finds these great for the zen space - sisal area rugs and bamboo area rugs.