Glossary Of Window Treatment Styles & Terms
___________________________________________
____________________________________________
This glossary of window treatment styles and terms is by no means all inclusive. However, it should be enough to keep your eyes from completely glazing over when a salesperson starts giving you the run down on all of your window treatment options.
Blinds - Metal, vinyl, or wood slates are held together by draw cord or other connectors in a horizontal or vertical position. Blinds can be raised or lowered in their entirety or the angle of the slats can be adjusted for light and privacy control.
Cafe Curtains - This window treatment style consists of a single pair of short panels, 1/2 the length of the window in which they are to be hung. The curtains are installed on a suspension or cafe rod half way down the window, leaving the top half open.
Cellular Shade - This window treatment style consists of two or more sheets of accordion-pleated reinforced fabric which is bonded together. From the front, they look like standard pleated shades. However, when viewed from the side they have a honeycomb construction which provides outstanding insulation.
Cornice - A cornice is a three-sided box, usually made of wood, and is placed above a window. It is upholstered with a fabric that matches the curtains or blinds beneath it and is often padded to soften the edges and prevent the upholstery from sagging or wrinkling. It serves the same function as a valance, but provides a more formal presentation.
Drapery - Today this term is used generically to describe the fabric panels used to dress windows. However, its origin goes way back...
Traditionally, windows were covered with three types of curtains: a sash curtain to filter light; a draw curtain to block out light; and an over-drapery to which was purely decorative. The over-drapery is now just called a drapery.
Festoon - This window treatment style is similar to a valance. Rather than hanging straight down from a horizontal rod, however, it is draped from one corner to the opposite. It is not intended to be used on its own, but can be quite dramatic when used with jabots or panels in matching colors. This combination gives the appearance of a single piece of fabric which has been artfully arranged on a curtain rod.
Finials - These are the decorative attachments that are placed at the end of curtain rods.
Insert - A small panel which is used between a pair of swags or jabots.
Jabot - A jabot is a small panel usually hung from the top of the window. It is usually folded into deep pleats at the top and cut at an angle at the bottom. This causes it to fall into gentle waves at the bottom, exposing both the front and back of the fabric. Jabots are commonly coupled with an insert or placed beneath a festoon or valance.
Panel - A fairly generic term used to describe the fabric hanging from a curtain rod and spanning the length of the window.
Pleat - A tailored fold…bunched in a decorative way… in a piece of fabric.
Pleated Shade - This window treatment style is a fabric (or sometimes paper) window covering that has an accordion design It is raised and lowered like a blind.
Roll-Up Shade - Yep, This window treatment style is just as it sounds. A roll-up shade is actually a roll of material on a spring-wound tube that hangs on your window. Although most of us remember them from the "old days" as being made of vinyl, they now come in a variety of colors and fabrics.
Roman Shade - This window treatment style consists of a fabric shade with wooden slats inserted horizontally at intervals down its entire length. It is raised and lowered via pull cord as with other blinds, but gathers soft folds as it does so. Newer variations of this window treatment style include lighter fabrics and pleats without wooden slats, so the folds drape more dramatically when the shade is raised.
Scarf - A long piece of fabric, usually designed to drape across the top of a window and hang to the floor on either side. It can be hung from hooks in the top corners of a window, draped across a curtain rod or suspended from other specialty hardware.
Shutter - Wooden hinged or solid panels that may be folded across a window to diffuse light and add privacy. Shutters are also a great way to add architectural interest to a room and look great either painted or stained. Shutters with adjustable louvers function in much the same way as blinds.
They may be opened to admit light and allow a partial view outside while maintaining a fair amount of privacy inside. Shutters with louvers that are over two inches wide are sometimes referred to as "Plantation Shutters."
Swag - This term refers to a one-piece valance which is cut longer on either end so that it frames the entire top half of the window.
Tiers - Tiered curtains impart a homey, country feel to a room. These generally consist of four short panels, each about the length of 1/2 the height of the window in which they are to be hung.
One pair is hung at the top of the window and the other halfway down. The bottom pair may then be opened to admit fresh air or closed for privacy while the top is opened to let in sunlight. These are similar to and often interchangeable with Cafe Curtains.
Valance - Another one of those generic, overused window treatment style terms that applies to many different things. It describes any fabric treatment which tops a window and doesn't extend beyond more than a third of the length of the window.
I hope this glossary of window treatment styles and terms has been helpful. For more information on this topic, check out the resources below.
Increase your knowledge of window treatment styles - Books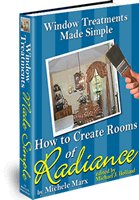 You'll find lots of window treatment styles in...Window Treatments Made Simple
- Dressing your windows is an expensive decorating decision.
Make the right decision,
and you're on cloud nine. But make the wrong one, and you'll be kicking yourself every time you look at your windows, for the next 5 to10 years. Now you have a resource that will help you
avoid costly mistakes
and show you how to easily select window treatment styles that match your decorating style, personality and window type.
Click here for more great ideas to help you with your
home decorating!
And to share this quick glossary of window treatment styles and terms, please click on the Facebook and Twitter buttons below.