Window Treatments for Glass Sliding Doors - You Have Several Options
_____________________________________________
_______________________________________________
Window treatments for glass sliding doors allow you to view the beauty of nature while protecting you from the elements.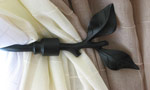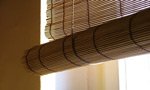 These window treatments let you control light, but should also be easy to operate.
Sliding glass doors may be an attractive and efficient way of letting light and air into your home, but they're also a big source of heat loss.
Additionally, if you don't have the right window treatment for glass sliding doors, they can be an eyesore and lead to an unattractive décor.
The three main considerations when choosing window treatments for glass sliding doors are privacy from prying eyes, how much light you want to receive through the glass, and how often people are opening and closing them.
Additionally, working with sliding glass doors requires a good sense of design and proportion.
Some rooms can use the sliding doors as a focal point, while other rooms are thrown off balance if they already have a major design feature, such as a fireplace or a cathedral ceiling.
If your doors are the focal point of a room, there are several ideas to try. An elegant solution is a Japanese wood and rice-paper screen called shoji screens.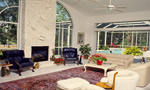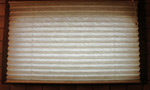 If you're willing to put in a bit more time and effort, you can have sliding shoji doors mounted on your sliding glass ones.
This imparts the look of shoji on the inside and the practicality of glass on the outside. If you're creative, you can create your own shoji screen out of semi-transparent or translucent fabrics stretched over a wooden frame, resulting in a look that is a cross between quilting and stained glass.
If you prefer a subtle, updated look then consider Vertiglide shades, which move horizontally along a track. However, if you like unfiltered light and privacy is not an issue, treat your glass doors like a window and mount a swag over the top.
Or check out indoor shutters for an oversized, playful look. Fabric panels are also a popular choice, and sheer fabrics will give the room a sense of spaciousness.
Vertical blinds allow complete light control and operate very easily. Choose metal blinds with small slats sizes for a contemporary, clean appearance. Another option is pleated shades or small cell honeycomb that impart an elegant look.
Window treatments for glass sliding doors can save you money as well. That's because they help to keep the cool in during the summer months and the heat out during the winter. ____________________________________________
_____________________________________________
Now there are window treatments that can be installed on the exterior. This would include small aluminum louvers, fiberglass mesh, or tough metalized polyester film laminated to vinyl shade screens. Although interior shades are not as effective, they do block a certain amount of the sun's heat.
Removable window treatments for glass sliding doors are another option, but these aren't as popular as other choices.
Your glass sliding doors may be perfect for your room, but in most homes they aren't very attractive on their own. So covering them will not only enhance the look of the room, but will allow you to control the amount of light entering it and privacy.
If you like the idea of covering your glass sliding doors with fabric, check out this video. You'll get three great potential solutions.
Window Treatments For Glass Sliding Doors
And if you'd like to learn more about this topic, check out the following resources.
Recommended reading - books
Window treatments for glass sliding doors ideas and lots more are in...The Awaken Your Interior Designer! Collection - Brought to you by Home Decorating Made Easy, this first of its kind collection of interactive guidebooks is filled with lots of original decorating ideas. Create the warm, inviting home of your dreams easier and faster than ever before without spending lots of money.

BACK to the home page for more great home decorating ideas! To share these suggestions for window treatments for glass sliding doors, click on the Facebook and Twitter buttons below.