Window Treatments Made Simple
Now You Can Select the Right Window Treatments to Match Your Decorating Style, Window Type, and Personality With
Ease and Confidence

From: Michael Holland


Have you ever seen an attractive window treatment and thought, "I like it, but I just don't know if it will work in my home?"
If so, don't worry. You're not alone.
Selecting window treatments has left many home decorators frustrated, confused, and just plain baffled. Why?...
Because dressing your windows is an expensive decorating decision. And the options are mind-boggling!
Make the right decision, and you're on cloud nine.
But make the wrong one...
And you'll be kicking yourself every time you look at your windows, for the next 5 to10 years.
So, before you plop down a bundle for window treatments, here are just a few of the questions you should consider:
What is your decorating style?
Which types of window treatments will work best with your window type?
Which window treatment fabrics are best suited for your family's lifestyle?
Which types and combination of window treatments will work best with your decorating style?
What level of privacy is required in the room?
Will the window treatment play a role in heat or light control?
If you don't have answers for all these questions, don't worry. This is not a test. I simply wanted to provide you with a partial list of important questions you'll want to explore before you finalize your window treatment decision.
How to Get
Window Treatment Help
Here are three ways to do it...
Search the Internet. I've visited lots of web sites and reviewed their information on window treatments. Some of it was good, and some was not. Mostly I found short articles that gave bits and pieces of advice, but not enough to put the puzzle together for a truly personalized solution.
Pay a Professional. Sure you could hire a designer, but at what price? The good ones are expensive. They aren't for budget conscious decorators, especially if you have many windows.
Let Me Show You How. I'll give you the tools and techniques to...
Select the right window treatments
with confidence, every time!
I wrote Window Treatments Made Simple for those who want an all-in-one, no nonsense approach to dressing their windows.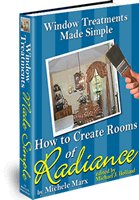 You'll avoid costly mistakes because this 117 page eBook takes you by the hand and walks you through the selection process for soft and hard window treatments. I cover it all…curtains, drapes, shades, blinds, shutters…you name it! In addition, all the questions raised above will be answered.
You'll shorten the time it takes for you to find the perfect window treatments because there over 150 photographs and illustrations to give you great design ideas.
There are also quick reference charts to help you narrow your choices at a glance. You'll know exactly what to shop for.
And the critical insights that you gain about your own decorating preferences will help you select window treatments that will tie your rooms together and bring them to life!
But there's a lot more inside Window Treatments Made Simple. You'll also learn:
How to select the perfect fabrics and patterns for your draperies and curtains

How to match window treatments with your decorating style

How to identify the best window treatments for your window type

How to properly analyze your room before dressing the windows

How toppers, tiebacks, and embellishments can be used to spice up your window treatments

How to select the right hardware for your window treatments

How to correctly measure your windows before fitting them with window treatments
(Click here to see this volume's Table of Contents.)
I've also included 5 no-sew, do-it-yourself window treatment projects. Just follow the step-by-step photographs and instructions, and in no time at all you'll have a beautiful window dressing that cost you very little to make.
After reading this eBook, selecting window treatments will become a snap…even fun! Never again will you lose sleep wondering if you've made the right decorating decision
Order right now and you'll also receive two exclusive bonuses.
EXCLUSIVE BONUS #1
Our eBooklet, Light Up Your Style: How to Select Lighting Options that Match Your Decorating Style, will help you avoid the lighting mistakes that could cost you hundreds of dollars.
EXCLUSIVE BONUS #2
An extra 5% discount off ALL products offered by DecorateToday.com, one of the Internet's premier online stores. Their prices for wallpaper, fabric, window treatments and more are already up to 80% below regular retail. Plus, they provide FREE shipping within the continental United States. Click here for complete details.
Our Risk-Free
Satisfaction Guarantee
Our guarantee is simple. If, within the next 60 days, you don't feel that this eBook will provide you with inspirational ideas for years to come, I will give you 100% of your money back. Absolutely NO questions asked. The risk is ALL OURS.
So, Let's Get Started...
Window Treatments Made Simple is available for immediate download.
The price for the eBook and bonuses is only $7.47. This is a small amount to pay for such an invaluable resource. Plus, you can easily recoup this amount by using the decoratetoday.com discount just once!

Wishing you all the best,
Michele Marx