Create a Beautiful Window Valance and Swag Without Professional Help!
_________________________________________________
__________________________________________________
By Maryellen McCracken

My home was custom built in the 1950's and the picture window in my living room is 120 inches wide by 84 inches in height!
After many trips to various stores, I realized I wasn't going to find a "standard" rod to create the window treatment I had in mind. Rather than letting this deter me, the challenge spurred my creative mind into action.
Since the living room is more formal and not used often, I opted for slide curtains and sheers but wanted a valance top as well. I bought two double slide rods and used the middle sections from a third I already had to create a rod long enough to accommodate the length of my window.
I placed a hook directly in the center to provide extra support to the rod. Since the treatment would have a valance, the hook would not be visible when the curtains and sheers were open, nor closed because this also was the point the material met when drawn.
I fell in love with both a box valance and a swag treatment for the top of the curtains but could not decide on either one, so I did both!
My husband designed and built the valance box from lightweight lumber. He then located as many studs as possible to attach it on the wall (over the curtain rod) using "L" brackets.
We went one step further and installed a fluorescent light fixture inside and selected a "natural light" bulb to provide "top lighting" for the window.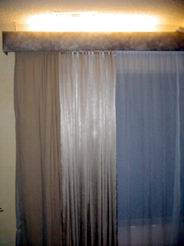 I then covered the valance with a complementary fabric and lightly "padded" it with polyfill to give it a more lush finish.
The "original" swag pattern called for sewing 4 to 6 fabric squares of various sizes, which are folded in half to create triangles that are draped over and at each end of the rod, giving it a "handkerchief" or uneven line.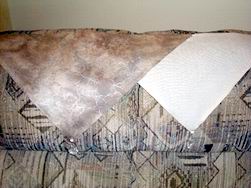 Since the box valance was attached to the wall and held the light fixture, I could not drape it without creating a potential fire hazard. Due to the overall height of the window, the top of the box valance is high and not in plain view. window valance
So I opted for sewing individual triangles (when finished, equaled the same size as the folded versions called for in my pattern) and secured them to the top of the valance with Velcro tabs!
This allowed me to position the overlapping triangles just as the pattern showed, and allowed me to remove them for cleaning (we live on horse property and dust is a constant challenge). Here's how everything came together...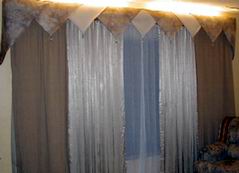 To my happy surprise, by covering and padding the box valance it provided an alternate finish to the window treatment when the triangles are down for cleaning!! window valance
I also forgot to mention that I added crystal tear-drop prisms to the end points (of the triangles). This window receives the afternoon sun and when it shines through, the prisms cast rainbows all through the living room! window valance
Michael, I owe my decorating success to you. After discovering my "inner decorator", I identified the style of my home and gained the confidence to create a custom window treatment for my living room that looks every bit as professional as the treatment I had intended to "hire out" to achieve.
-------SIDEBAR------
Michael here.
Just in case you're wondering, Maryellen is referring to our home decorating ebooks The Awaken Your Interior Designer! Collection for helping to bring forth her "inner decorator". Naturally, we're absolutely thrilled!
------/SIDEBAR------
I literally saved one-third the cost, gained an optional treatment and am enjoying the surprised look on the faces of my family and friends when I tell them "I did it myself"! Thank you for making this possible!!
Maryellen McCracken
Avocado Heights
USA

______________________________________________
_______________________________________________
For more ideas on how to dress your window, check out these resources.
Click here for more home decorating advice. And if you know someone who might get a bit of inspiration from the above window valance story, please click on the Facebook and Twitter buttons below to share.