Window Treatment Ideas For Dressing Windows Based On Your Decorating Style
_____________________________________________
_____________________________________________
Yes, it's true. There are window treatment ideas that will fit with one decorating style better than another. So, I've prepared the following guidelines to help steer you to the type of window treatments that should work best in your home. There's a video at the end as well.
Contemporary Decorating Style - This style emphasizes clean lines and minimal décor. The primary focus is on design and form. Try the following window treatment ideas:
If you have architecturally beautiful windows, you might consider leaving the windows bare. For impact, paint the window trim a contrasting color or stencil a border around them.
Install wood shutters or blinds
Try a valance and side panels made of sheer fabric.
Traditional Decorating Style
- This style is typically formal and owes its heritage to old world European design. When it comes to furniture, you've probably heard names like Queen Anne and Louis XV. A formal décor calls for formal window treatments. Use these window treatment ideas for your traditional home:
Curtains and draperies should always touch the floor. If you have a romantic look in mind, buy extra long panels so that they puddle slightly on the floor.
Go with formal fabrics for your draperies such as silk, damasks, chintz, linen, velvet and tapestry.
Your window treatment should be symmetrical. This means, for example, that you might hang a cornice or valance over a window and then have the two side panels of equal length flowing from underneath to the floor.
Classic window treatment designs include swags and jabots, and swagged valances with rosettes and silk fringe. Add elegant braids, tassels, bows and swag cords. Use decorative tiebacks.
Depending on the furniture and furnishings in the room, you could go with a sheer fabric window treatment or a heavier fabric such as velvet. In general, if the furniture pieces are weighty then stick with a heavier fabric or hang sheer panels under formal draperies.
Hang window blinds or shades underneath curtains and draperies for privacy and light control.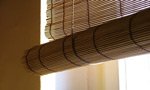 Casual Decorating Style - This style includes over-stuffed furniture, neutral color fabrics, and whimsical accessories. Try these window treatment ideas:
Avoid the more formal fabrics such as luxurious silks and velvet. Cotton would be a much better choice, for example.
Curtains may have colorful and playful designs. Shorter curtain lengths convey a more relaxed and informal mood.
Roman Shades made with striped or geometric pattern designs would add life to a plain window.
Your Casual window treatment options are many, but if you need a starting point, stick with casual valances, Roman shades, café curtains, and colorful draperies.
Eclectic Decorating Style - This style mixes at least two of the other home interior decorating styles. For example, the picture below shows the window treatment that I used for one of my living room windows. The room is decorated in an Eclectic home interior decorating style.
The single swag used for the window treatment adds drama to the room. One of the drapery panels flows to the floor and forms a puddle for an elegant and romantic touch. Simple metal blinds are tucked underneath when privacy or light control is needed.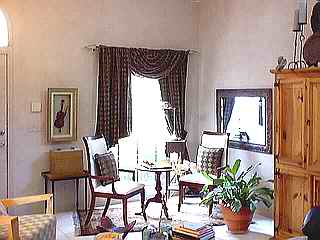 For more window treatment ideas, watch this short video.
And if you'd like to learn more about this topic, check out these resources.
More Window Treatment Ideas - Recommended Reading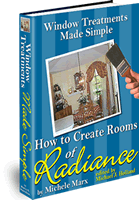 You'll find great window treatment ideas in...Window Treatments Made Simple - Dressing your windows is an expensive decorating decision. Make the right decision, and you're on cloud nine. But make the wrong one, and you'll be kicking yourself every time you look at your windows, for the next 5 to10 years. Now you have a resource, packed with window treatment ideas, that will help you avoid costly mistakes and show you how to easily select window treatments that match your decorating style, personality and window type.




Click here for more great ideas to help you with your home decorating! And please click on the Facebook and Twitter buttons below to share these window treatment ideas with your friends.