Helpful Wall Paint Ideas For Your Home
_________________________________________
__________________________________________
Although most people think that wall paint ideas stop with the variety of colors, there are many other things to consider.
The paint color will be something that you will consider carefully.
When investigating wall paint ideas, you should also consider the type of paint and the painting technique that you choose. Taking advantage of techniques, styles and colors will give you a unique wall finish that you can be proud of for several years.
What Color Should You Choose?
The paint color is very important, so much so that many painters get hung up on the color and forget about the other factors. For your wall paint ideas, think about your color palette carefully. If you have favorite colors, try to determine whether they are good wall colors. If they won't work for an entire room, consider just using the color as an accent wall.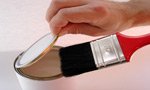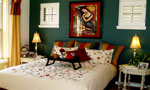 Colors can make or break the atmosphere of a room. Use warm colors such as yellow, orange and even red to brighten a dark room and cheer up dark moods.
The cool colors are violet, blue and green. They can make a small room look larger since cool tones tend to recede. Another way to make the most of small spaces is to use the muted tones of beige, sand, and ecru. These hues are the most commonly used paint colors.
Are There Different Types of Paint?
Many different types of paints and stains are available today. You should take into consideration characteristics of paint finishes. These include reflectivity, gloss, and texture.
Gloss finish wall paint ideas are very shiny. They are the most durable of paints, because dirt and soil tends to "slide off" the surface. The atmospheric and environmental effects are limited since the bad substances can't get a toehold.
Satin finish walls can be washed. They are reflective and are quite durable. They are not suited to walls that have flaws, since every imperfection is reflected.
Matte finish paint types are somewhat washable. They are slightly more shiny that a flat finish paint. They're a compromise between satin finish and flat paint.
The least reflective paint is flat finish. It has almost no shine or reflective qualities and is not usually considered washable. They are not durable, so flat paint walls should be repainted regularly to maintain a fresh appearance.
How Do You Apply the Paint?
The painting techniques that you use range from standard application to stenciling, patterns, stripes, and focal point walls. If you want to get more elaborate, faux painting has become very popular. This technique relies on paint to give the appearance of other substances. The paint may appear to be stone, marble, brick, or natural elements. Trompe L'oeil is another more complicated technique that paints images on the wall. An artistic bent is required to make this technique successful.
Choosing the right wall paint ideas will make your home painting job decorative and unique. You can pick colors and techniques that suit your personality and lifestyle. Paint types allow you to choose paint that has just the right mix of reflectivity and durability.
Click here to go back to the home page for more great home decorating ideas! To share these interior paint ideas, please click on the social buttons below.