Interior Design Ideas: Decorating Beginners
Can Now Coordinate Colors Like Pros
__________________________________________________
____________________________________________________
Do you know why many interior design ideas and home interior decorating projects never get off the ground?...
  Because there is a fear of choosing the wrong design colors or selecting wallpaper and fabric patterns that clash.
If you're a home interior decorating beginner and have this fear, you've come to the right place. I'll provide you with some simple techniques that will help you maneuver around these obstacles and implement your interior design ideas with confidence.
Of course, if you're a busy person and would just prefer to choose from a variety of ready-to-go color schemes, I recommend that you check out our eBook called Awaken Your Interior Designer. It contains lots of great interior design ideas.
The remainder of this page discusses how to easily and effectively choose paint and decorating colors that will work well together, every time. I've even included a couple of great videos that will show you additional techniques for picking color schemes.
Once you're comfortable with selecting colors, come back and click on this link to get some interior design ideas about patterns… Decorating Tips For Choosing & Using Patterns

So let's get going. The traditional way of developing a color scheme for decorating a room has been to use the tried and true color wheel. This video is one of the best I've seen for explaining how to use the color wheel effectively. Watch.
The reason I like the video is that is gives a simple tip that you can always remember. Did you notice how geometric shapes were placed in the center of the wheel to immediately let you know which colors would work well together?
And even if you didn't want to use the exact colors that the shapes pointed to, you can always get the swatches from a paint store and pick out shades of colors that are less bright, for example.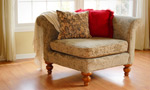 As you contemplate interior design ideas for a particular room, you must first decide on the overall mood you want to set.
Do you want the room to be cheery and energetic, or do you want it to be relaxed and cozy?
If you have a lively room in mind, then think of "warm" colors. These include selections from the red, orange, and yellow family.
On the other hand, if you prefer a more laid back mood, think of "cool" colors. These include hues from the blue, green, and violet family.
Easy so far, right?...
Next, I want you to find an eye-catching fabric or wallpaper border pattern that contains at least three colors that you like (white doesn't count :-)). Make sure that it reflects the "warm" or "cool" mood you want to create. Don't worry, this is still a technique for selecting design colors, but make a note of the fabric or wallpaper border that grabs your attention.
The reason that I want you to find a pattern that you like is because design experts have already researched which colors best complement one another. From here on in, you can't make a mistake!
Examine every color in the pattern. Now, pick out a light color (doesn't have to be THE lightest), a medium color, and a bold color...
Got them? Great!
Now, I will layout the basic framework for using the colors and pattern. From there you should be able to implement all of your interior design ideas in a snap!
The Light Color
This is the color that you should paint your walls. This will be the background color that will accentuate your furniture and furnishing. To really make a statement, consider applying the color as a faux finish.
This is highly recommended if you happen to select a color like beige or tan. These colors will make your room seem very subdued or cold if they are not somehow enlivened.
Another technique for adding impact to your walls is to paint the trim and doors white. This is also a wonderful way to create a sense of continuity for your home interior design ideas.
Finally, if you want to add drama to a room by painting the ceiling, I recommend that you paint it a shade or two lighter than the walls. Of course, if you feel comfortable, try a darker or contrasting color.
If you'd like to read more on paint and paint colors, click on this link… Interior Painting Ideas

The Medium Color
You'll want your furniture pieces to pick up this color. For example, if your medium color is a shade of blue, make sure that your sofa has lots of that color in the fabric. No, your sofa doesn't have to be solid blue.
The Bold Color
This is the color you'll want to capture in your accessories such as decorative pillows, window treatments, throws, framed art, area rug, etc.
The Pattern
Told you I would come back to that pattern you loved so much. It is the glue that pulls everything together. Make sure that the pattern and color combination is repeated at least 3 times in the room.
For example, if you found the pattern in a fabric, use it to create your drapes. Purchase a little extra and have a couple of decorative pillows made. Add tassels, fringe, or rope around their edges for texture.
You may also find that you already have a chair with upholstery that closely resembles the pattern.
If you found the pattern in a wallpaper border, apply it along the upper edge of the wall near the ceiling. However, I think a technique that is faster, easier and offers more interesting designs than stenciling is rubber stamping. Yes, you can use stamping on your walls. If you'd like to read more about it, check out the book Creative Stamping for Walls & Furniture.
Finally, you should find a second pattern for the room. Find one that complements the first and pulls in one or more of the room's colors. As an alternative, you may want to bring in another bold color from the pattern, if it exists. Again, use your accessories to repeat this new pattern a few times.
If you still think the room could use a little more "umph", it's okay to bring in a third pattern, but no more.
Whew! That wasn't so bad was it? Naturally, there are exceptions to every rule. But if you just want a no muss, no fuss way to create something beautiful, this is a great starting point.
Then, as you complete one interior design idea after another, you'll gain the confidence to try additional tricks, tips, and variations found on this site. Here's another video that takes a similar approach to the one I just discussed. It's always good to have visuals to help understand things. Check it out.
If you think these interior design ideas would help someone else, please click on the Facebook or Twitter buttons below and share them with your friends.
And if you'd like to explore some excellent books filled with interior design ideas, please click on the recommended resource links below.
Recommended Reading For Incorporating Color Into Your Interior Design Ideas- Books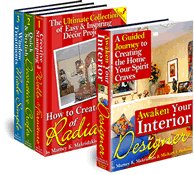 (1) *NEW* The Awaken Your Interior Designer! Collection - Brought to you by Home Decorating Made Easy, this first of its kind collection of interactive guidebooks is filled with helpful color quizzes, advice, and interior design ideas. In addition, there are 135 paint color schemes right at your finger tips. Just pick a general color family, and voila!...you have a complementary color scheme that you can use for a room or your entire home. You even get the paint brands/manufacturers!

Click here for more great ideas to help you with your home decorating!