Retro Bedroom Furniture Is A Look That Is Truly Groovy!
Retro bedroom furniture is a good idea for anyone who is interested in refurnishing their home with styles from the past, or who are limited to a budget.
You can choose from a variety of interesting furnishings for your bedroom from discount or thrift stores, and use paint, staining or other finishing products to create the look you want for your retro bedroom furniture.
The term retro applies to things from the past, probably beginning as early as the 196o's and continuing into the early 80's. Therefore, the styles from this time period are considered to be of retro fashion.
Retro Bedroom Furniture
The following are examples of 60's styled retro furniture pieces you can use to dress up the look of the room:
Beds - The style of bed that you can use for retro bedroom furniture is often very simple, with no canopies, footboards, posts or other fineries.
In many cases there are even no headboards, but if you are interested in having a headboard the most authentic choices are those that are made of vinyl and are heavily stuffed. You can choose just about any color you enjoy, or go with the color of the room for your headboard.
Mirrors - When it comes to retro bedroom furniture mirrors, you can use nostalgic themed mirrors such as those that are in the shape of popular drinks or other items of the past, like "Coca-Cola". You can also use mirrors that are designed in funky geometrical shapes like a diamond or circle.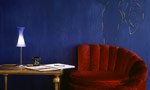 Sofas and Chairs - If you are interested in putting a sofa or chairs in your bedroom, a good choice would be inflatable blow-up couches and chairs.
You may also be interested in overstuffed or beanbag sofas and chairs. Don't forget to dress up these retro bedroom furniture items with funky designed pillows in different shapes.
Dressers and Wardrobes - As far as dressers and wardrobes are concerned they should not look elegant or elaborate. Plain wood that can be painted in bold, vibrant or primary colors that match the look of your bedroom is an excellent choice.
As for the handles of the drawers of these particular retro bedroom furniture items, large stainless steel, or other colored clunky looking knobs create the perfect touch.
Lighting - Retro bedroom furniture lighting are usually items such as lava lamps, pedestal lamps and hanging disco ball lamps.
Fabric - Popular fabrics for retro bedroom furniture includes vinyl, faux fur and polyester. Polyester upholstery is usually patterned with large flowers, swirls or wild shapes, while other fabrics that are designed with faux fur are made to look shaggy.
This is just one example of how you can dress up the look of your room with retro furniture. You will find that many different options await you, so take the time to look at different pictures of retro styled rooms to choose the one that you like best.
And remember, it is easy to find retro bedroom furniture pieces at thrift stores and other discount centers, so you can have fun decorating your room on your own budget. For more ideas related to this topic, check out the resources below.
More Home Decorating Ideas - Recommended Reading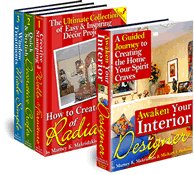 (1) The Awaken Your Interior Designer! Collection - Brought to you by Home Decorating Made Easy, this first of its kind collection of interactive guidebooks is guaranteed to help you decorate any room in your home faster and easier than ever before. You'll find lots of interior decorating ideas to create unique spaces that fit your family's lifestyle without spending lots of money.

Click here to go back to the home page for more great home decorating ideas! And to share these tips about retro bedroom furniture, use the social buttons below.