Paint Color Schemes
by HDME Staff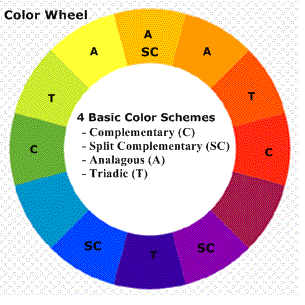 Paint Color Schemes
Selecting interior paint color schemes can seem to be a challenge at times. The most common scheme by far is to use a single color for the walls and use white on the trim and molding. Fortunately, there are many different paint color schemes available, so not everyone need have the identical colors in each room of their homes.

Another common color scheme is to use complementary colors. For example, one could use yellow on the walls and apply violet to the trim. This would create a room that was very sunny and pleasant to be in. Of course, one could also reverse this and paint the walls some shade of violet and the trim yellow. This is just one example of using complimentary colors.

Another popular choice among available paint color schemes is to use two different shades of the same base color. For example, one could use a light shade of brown for the walls and a darker shade for the trim. These colors would match naturally.

One thing to watch when trying to decide on paint color schemes for different rooms is the coloration of the furniture. It is normally best to use colors that can be found in the print pattern of furniture that has print upholstery. The general consensus among decorators is that one should paint the walls to match the background color of the material and the trim to match one of the main colors found in the print.

One also has a choice of whether to go with bright, vibrant colors or more subdued neutral tones. Deciding the paint color schemes for rooms in the home is normally a matter of what sort of mood one wants to create in the space.

For example, yellow is a color associated with the sun and is considered bright and cheerful. Blue is a relaxing color in most hues. Red is usually not seen inside a home because this is an angry color. Earth tones in shades of brown and green can promote a feeling of openness much like being outdoors.

One should also consider whether the room is small or large and how one wants it to be perceived. Lighter colors tend to reflect more light and make a small room seem more open and spacious while dark paint color schemes can close down a larger room and make it more cozy and inviting. All of these things should be kept in mind when trying to decide on paint color schemes for rooms in a home.


Paint Color Scheme Ideas
Here's a great video that will provides additional tips on how to select paint colors based on the characteristics of the room.