How to Select Paint Colors For Bedrooms
When it comes to choosing
paint colors for bedrooms
the key is YOU. It's not about following the latest color trend. Your bedroom is your sanctuary, so the color you choose should be based on a personal assessment of your moods and taste.
There are a huge number of colors and shades available, but the fact is that most of them will not be a good choice for a bedroom.
Many people believe that the best paint colors for bedrooms are the ones that you generally say are your favorites. This approach can sometimes work out fine, but you should first gain a little more understanding of the impact of color.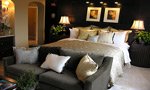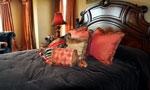 In the remainder of this article, I'll share some thoughts about paint colors for bedrooms based on the mood you want to set for the room.
I've also included a video
at the end that will give you more bedroom paint color ideas. As you read through the following mood and color relationships, mentally transport yourself into that exact room.
Think about how you're feeling. In just a few minutes of doing this, you'll begin to see which color path you'd like to pursue. From there, it's just a matter of taking a trip to the paint store, grabbing a bunch of paint swatches and then determining the shade you want.
Paint Colors For Bedrooms - Pick Your Mood
Romance:
This mood is always a favorite that people want to create with paint colors for bedrooms. The obvious reason for this is because it lends itself to having a great intimate connection with your significant other. If the room you share each night makes you both feel romantic, you won't struggle when you are feeling less than amorous.
Choosing soft, muted paint colors for bedrooms will give that romantic feel. A dusky rose color, or a soft maroon can create a romantic mood without overwhelming your space. Pair it with white trim for a brighter, bolder look, or with dark wood stains for something very romantic.
Calming: Let me give you a visual of a room type that is explicitly designed to promote calmness. While you've probably never noticed it, if you've been in the unfortunate circumstance of visiting a loved one in the Intensive Care Unit at a hospital, you would notice many calming elements.
For example, you might notice that many of these rooms are painted in a very soft shade of green, which is one of the most calming colors you can use in a room.
Of course, green is not the only calming color. But it, and other colors that represent more natural and earthy tones, promote calmness. So, if the goal is for your bedroom to be a place of extreme relaxation, think of mother nature.
Bright: This isn't the first thing you'd think of when decorating a bedroom because the word "bright" seems to totally go against the notion of sleeping. And when you're thinking of the night time, you're absolutely correct. However, you may be one of those people who is sleeping in a room with no windows or access to sunlight.
This can be quite depressing to some. So perhaps to counter that feeling, you could use a splash of brightness. So when you wake up in the morning-- the bright walls that you see will put a smile on your face and help bring you into the day.
If this sounds like you, then you need to go with paint colors for bedrooms that reflect a lot of light to brighten the room during the day. Colors like pale yellow are great for bedroom paint colors. It doesn't scream at you nor is it too subdued. And if you choose a paint finish such as eggshell or satin, your walls will have even more reflective value.
Functional: Okay, so maybe you've decided that you don't want a bedroom that is strictly romantic, calming, or bright. You want a bedroom that provides some degree of relaxation, but you also need it to be functional. Perhaps, this is where you work on your computer because you have no separate office space.
If you select paint colors for bedrooms that are too dark, this may send you to sleepland right in the middle of you working on something. We can't have that. So what you may want to do is this. Get dividers, and use whatever bedroom paint colors feel best for your sleep.
Pull ideas from our suggestions above. Then use colorful accents for the designated work area in your bedroom. Just make sure this area is not visible from your bed, even if you have to buy a a few dividers. You can have both in one room, just make sure they aren't clashing.
For more information and inspiration on paint colors for bedroom, watch this video. You'll learn a number of things including how to really get a paint color to make a statement in the bedroom, how to coordinate with linens and accessories to create a beautiful space and more.
The key point that really popped out to me after watching the video is that your choice in paint should be driven by what color or colors you would associate with calmness, positivity, and restfulness. As as an example, the choice for the vast majority of people would never be bright red.
Recommended Reading for Bedroom Decorating Ideas - Books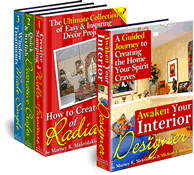 (1) The Awaken Your Interior Designer! Collection
- Brought to you by Home Decorating Made Easy, this first of its kind collection of interactive guidebooks is filled with lots of paint colors for bedrooms ideas. Create the warm, inviting bedroom of your dreams easier and faster than ever before without spending lots of money.


Click here to return to the home page for more great home decorating ideas. And if you found these tips about choosing paint colors for bedrooms to be helpful, please click on the Facebook or Twitter link below and share it with your friends.