Living Room Designs - Making The Best of Your Space
________________________________________
_________________________________________
No matter what you have to work with, there are living room designs that will make your room into a livable and comfortable space, without losing style. Do not scoff at the idea; it is possible.
Living room designs, when carefully thought out and planned, can change the look and feel of your room. A clumsy design will create a clumsy atmosphere; an organized look, however, will create a room that is both functional and attractive. It is all about the time you take in planning.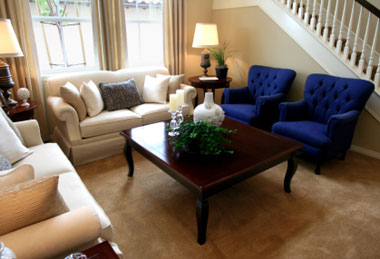 Below, we will list some helpful tips to make planning easy. With these, you will be able to find designs that best highlight your room and your life.
One: Plan for your lifestyle. Living room designs should, above all things, incorporate your way of life into them. You should not have to work around your room; your room should be designed around the way you live.
Living rooms should be about making your life comfortable--if you intend to use this room as a family area, one that will house activities and food, then it would be wise to make separate spaces for separate times. If the space allows, create two areas, one for family time and one for guests to relax in.
This will divide the purpose of the room and let you use it accordingly. Living room designs must suit your life.
Two: Create a focal point. Living room designs need centers; your room should have some obvious core. Whether it is your television, your fireplace or a piece of artwork that you particularly love, you need to create a plan that centers around something.
Living room designs need balance; a focal point does that. It allows you to create a plan that seems more organized and even--rather than just randomly placing furniture, you're trying to showcase an idea. This makes a room appear more livable and more intelligently designed.
Three: Making choices count. Living room designs are more than just planning where to put furniture. They also include the colors and accessories you pick. These are what make a room, fill it up with touches of your style. If you make poor choices, your living room will suffer for it.
The design of a living room depend on smart decision to complete the look. You need to learn what colors and accessories will best fit your style. For example, if you intend to go with Victorian decor, then you must choose patterns, wall colors and extras that match that--but, they also must highlight the room.
If you are working with a small space but intend to go with Victorian style, then using mirrors would add more depth to the area and give the illusion of space, while still matching the decor.
Good living room designs are not impossible; if you follow those three easy suggestions, you will be able to create a room that is completely representative of the style you love while still serving as the room you need.
Window Treatment Options For Living Room Designs
One of the most important elements for creating the look and feel of your living or family room is the window treatments you choose. Once you decide that your room is going to be formal or casual, there are certain types of coverings you should consider. Watch this video to help formulate some specific ideas.
Click here for more great ideas to help you with your home decorating! And to share this information about living room designs, click on the social buttons below.