Home Painting Ideas For Budget Decorating
________________________________________
_________________________________________
Looking for home painting ideas that won't break the bank? If you want to take on a home makeover at a low cost, one of the easiest ways to accomplish a new look is to take advantage of the many home painting ideas available.
You can mix and match ideas and take full advantage of color. If you can do the painting work yourself, your room can look new at the cost of a couple gallons of paint.
Color is probably the most important aspect of your home decor. Today, there are so many home painting ideas and options in color available that you can let your imagination run wild and probably find a color that will match. If you prefer the clean look of off white, there are dozens of delicate color hints and tints that could be used to soften the starkness of bright white.
Imperfect walls can be a problem. Some people use inexpensive wallpaper and paint over that. In fact, there are wallpapers that are intended to give you a smooth and easy surface over which paint can be applied. If you prefer to have texture included in the paint, there are commercial paints that add texture. Some use a two-step process to add a layer design on the wall.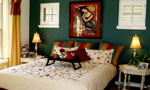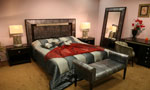 Complaints about paint odor are as old as paint. There are a growing number of manufacturers who produce low VOC paints in many colors.
Volatile organic compounds are the cause of paint odor. They are considered unsafe for children and may cause breathing or other health concerns. Fortunately, they dissipate into the air relatively quickly. Choosing paints that are free of these compounds reduces paint odor and still provides good coverage.
Similar to textured surface, other home painting ideas include painting flat walls to look like other surfaces. This can require time and effort but can also give you the look of marble, brick or stone on a regular surface. There are techniques to give the appearance of wood grain. Imaginative ideas give your rooms unusual flair that looks totally different from that of anyone else.
Specialty paints can add touches for your home decor that you may not have considered before. For example, you can add metallic paints so that magnets can be used. This works great for children's rooms where the child can add magnetic decals to the walls. A square of metallic paint can look great and be incorporated into the room design for additional play area for the child. Chalkboard paint and paint that can be used as an art board with easily cleaned surfaces is another favorite.
When you are considering home painting ideas, don't ignore the floors. Although painted floors are not as common as some other types, floor paint gives good coverage in a variety of colors. If you like the look of hard surface floors and don't want the expense of engineered or hardwood floors, consider a painted floor with area rugs for emphasis or to delineate living areas.
Home painting ideas can make your home style unique. You can take your pick of colors, techniques and designs to add interest. Using specialty surfaces gives you added usefulness in your decorating techniques.
Click here to go back to the home page for more great home decorating ideas! And click on the Facebook and Twitter buttons below to share these home painting ideas with others.