Bathroom Paint Ideas to Create More Than One Great Look
__________________________________________
__________________________________________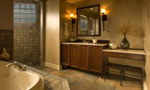 There are plenty of bathroom paint ideas you can find to change the look of the bathroom(s) in your home.
In fact, depending on the number of bathrooms you have, and who the primary users are, you can really make one bathroom different from the next.
For instance, if you have young children and one bathroom is mainly used by them, you can make the theme of the bathroom catered more to their tastes.
Bathroom paint ideas for a child's bathroom are far bolder and use more color than a guest or en-suite bathroom used by adults. The following are suggestions you can keep in mind on your bathroom decorating journey.
Bathroom Paint Ideas
The bathroom for children – Popular bathroom paint ideas for a kid's bathroom involve the sea. You can paint the walls a medium but bright shade of blue and add a wallpaper boarder of fish around the top or middle area of the room.
You may also want to stencil a border of sea creatures or even create a wall mural if you are feeling creative or want to engage in a project that both you and your children will enjoy.
Aside from the sea, other fun bathroom paint ideas involve the beach and sand. Instead of using blue to add a cool sense of relaxation to the bathroom, opt for the sunny side of things and make your focus yellow.
You can paint the top part of the walls a sunshine or golden yellow, and sponge paint the bottom half of the wall with a light shade of brown to create the look of sand. You can then add different things to the "sand" by using a stencil to paint a beach ball, sand pail and shovel, etc.
The guest bathroom – If you need bathroom paint ideas for a guest bathroom, your goal is to keep your color scheme inviting and simple. Paint the walls in a cool color such as a light shade of green or blue, or a warm lemon cream.
Keep the walls uncomplicated and avoid adding finishes as these will become tiresome after a while. Add neutral tones to compliment your main wall color.
You can also add a slightly lighter or darker shade of the main color you chose as an additional accent to the neutral and key color.
The en-suite bathroom - En-suite bathroom paint ideas should be based on using white or a light cream with one other color. If you like the idea of a white bathroom, it's a good idea to keep your secondary color really bright such as orchid, teal, tangerine or salmon.
However, if you prefer the more subdued look of light cream, combine this color with deep shades like hunter green, navy blue, burgundy.
Use the white or light cream for the walls and paint the trim in the secondary color. You should also use the secondary color in different accessories in the bathroom to further unify the colors and bring the theme of your bathroom together.
Despite what type of bathroom you are interested in decorating, the right color combination is what will help you put all of your bathroom paint ideas into perspective. For more bathroom paint ideas, watch this short video.
_____________________________________________
_____________________________________________
Bathroom Paint Ideas - Video
For more information on this topic, visit the links below.
More Home Decorating Ideas - Recommended Reading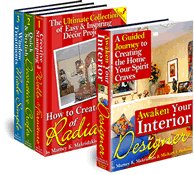 (1) The Awaken Your Interior Designer! Collection - Brought to you by Home Decorating Made Easy, this first of its kind collection of interactive guidebooks is guaranteed to help you decorate any room in your home faster and easier than ever before. You'll find lots of interior decorating ideas to create unique spaces that fit your family's lifestyle without spending lots of money.


If you know someone who could benefit from these bathroom paint ideas, please click on the Facebook and Twitter buttons below to share.
Click on this link to return to the home page to find more home decorating advice.