Bedroom Linens - A Must For Creating A Cozy, Luxurious Bed
_________________________________________
__________________________________________
From dust ruffles to duvet covers, this article provides a description of the bedroom linens you'll need to make your bed cozy and luxurious and tells you where to find them.
Do you know what bedroom linens are needed to make a luxurious bed these days?
Well, I can tell you it's not like it used to be...
Gone are the days of simply replacing the sheets and covering your bed with the same bedspread. Today, dressing your bed requires some thought and planning.
To see what I mean, just check out the bed below and then the list of suggestions for bedroom linens. At the end of the article is a video that describes how to pull it all together to achieve a fabulous looking bed.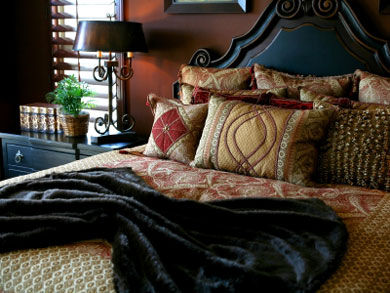 As you might expect, selecting the right bedroom linens is a matter of personal taste and style. You'll have decisions to make with regard to colors, patterns, textures, etc.
Accessorizing your bed is definitely an art, but I think you'll have fun doing it.
When you dress your bed, think in terms of layers, textures, and colors...
And if you are undecided about patterns or fabric, consider those that work with the bed and bedroom style you have chosen.
For example, if your style is contemporary, consider contemporary patterns that may be minimal with a touch of an accent color, such as red.
If your home interior decorating style is Traditional, perhaps floral prints will do just the trick.
Just make sure that the color scheme of your bedroom linens complements the rest of the room. Click here to see how I decorated my bedroom and to get more bedroom decorating ideas.

But whatever you decide, don't settle for "Bedroom Linens - The Basics" listed below. Why?...
Because the way your bed looks and feels plays an important role in your physical and psychological comfort. You spend a lot of time in your bedroom and it is your personal oasis. Don't you deserve "Bedroom Linens - The Royal Treatment"?
Bedroom Linens - The Basics:
Dust Ruffle or Bed Skirt - Used for hiding that ugly box spring and the frame legs.
Fitted Sheet - Part of a set of sheets which has pre-made elasticized hems at its corners. Thread count of 180-200 is standard and 350 is pure luxury. Get 100% cotton because it lets the body breathe. Go for Pima or Egyptian cotton for extra comfort and luxury.
Flat Sheet - The top sheet in your set. It is perfectly flat and has a deeper hem at one end which goes at the head of the mattress. See Fitted Sheet above for quality standards.
Pillows - Two pillows are the norm for full, queen, and king-size mattresses. While one is enough for a twin mattress. They are filled with everything from cotton to down to buckwheat. When in doubt select one filled with natural materials.
Pillow Cases - Need one for each pillow. Often included in the same package as the set of sheets
Blanket - select one made from wool or cotton
Comforter - select one made from all natural fibers.
Bedroom Linens - The Royal Treatment:
Mattress Pad - Typically a quilted pad tailored to fit your mattress like a fitted sheet. Goes under your fitted sheet for extra comfort and protection.
Duvet Cover - A plain, usually down-filled comforter with a removable, washable, cover. This is a very economical way to change the look of your bed covering. You could even slip an outdated comforter into it.
Extra Pillows - This is obviously a personal choice, but I always wind up with two pillows under my head. And extra pillows seem to give a bed an extra snuggly appeal too.
Pillow Shams - A pillow sham is like a slipcover for your pillow and replaces a pillow case. Most pillow shams feature an opening for pillow insertion in the back rather than the side, and there is usually a decorative edging such as a ruffle or a flange.
European Shams - A European sham usually measures 20"x24" and special pillows are required. A queen size mattress will need two of these and a king will need two, or probably three. Only one is needed for a twin. Try setting them on their corners, rather than flat, to give a different look.
Feather Bed - Try one of these for a heavenly experience. It sits atop your fitted sheet and is usually down-filled. For protection, you can slip the feather bed into its own removable, washable, duvet cover. Make sure the thread count is at least 200. All I can say is WOW!
Assorted Decorator Pillows - These are the smaller pillows that come in various shapes and sizes. Try a mixture to create an artsy look.
And to make your bed look absolutely gorgeous, watch this video for some great tips.
Bedroom Linens - Making Your Bed Look Beautiful
Click here for more great ideas to help you with your home decorating!
To share these tips about bedroom linens, click on the social buttons below.