Boudoir Basics for Romantic Bedrooms
_____________________________________________
_____________________________________________
Our concepts in romantic bedrooms depend upon our thoughts about romance in general. What conjures images of dreaminess for some doesn't even ignite a spark for others, much less fan any flames.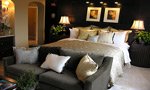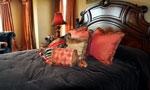 This can be especially true for couples who have been together for a few or more years.
Busy careers, demanding schedules and pressing deadlines have all but reduced the notions of romantic bedrooms to practically nil. Ever-increasing personal and professional obligations leave us little time for dream-chasing.
Clean sheets are a given and a bed that's made earns an A+ for sleeping, but that's about all it rates. Far less than romantic bedrooms will eventually tell the tale, not with our sleeping, but where it matters most ... in our relationships.
But who has the energy for such bedrooms you wonder? Redecorating is a major project. It's time consuming, it's expensive, and it's risky. Who knows whether your spouse or partner even cares or will even notice? If you don't know the answer to the question, then it's definitely time for a change.
Breaking Romantic Bedrooms Myths
Myth No. 1 - Time consuming
Online research takes little time. You can save time and energy by exploring ideas about these type of bedrooms on the net. All major home décor publications have their own web sites. You'll also find photographs and designer-written ideas that you can use.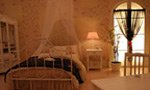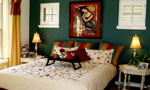 Myth No. 2 - Expensive
Shopping online for romantic bedroom décor items is a budget-stretcher in itself. You can save your $2 per gallon gasoline for a weekend drive and visit more retailers in less time.
Visit auction web sites and online outlets for bargain-priced linens. Also look for offers with free-shipping.
Myth No. 3 - Questionable Response of Spouse or Partner
There are certain calculated risks associated with any aspect of intimate relationships. Themes in these bedrooms express appreciation and celebration of the unique bond that is shared. A nurturing environment is created that allows the bond to be strengthened on the spiritual, emotional and physical levels. The atmosphere extends a generous invitation of rediscovery.
Extending the invitation - romantic bedrooms
Not sending an invitation guarantees that you'll never get an R.S.V.P. Use these signed-sealed-delivered ideas to send yours via Special Delivery. In combination, they'll send a sensually effective signal that your spouse or partner can't possibly miss. Prepare yourself for an immediate response.
Boudoir Basics - Romantic Bedrooms That Work
Shedding some light - romantic bedroom lighting
While the electric light serves its purpose, it can be a diminishing element. Avoid fluorescents, which create a stark, business-like environment. Use soft lighting in various colors. Decorative oil lamps or antique lanterns also create a dreamy feel. Candles always offer wonderfully subtle lighting in any style of romantic bedrooms décor. While tea candles will always work, use decorative candles that match your décor or personal tastes.
Hints of romance - romantic bedroom fragrances
Just as the oven's aroma sparks the appetite for food, the fragrance of the bedroom stimulates our senses as well.
While bland foods are sufficient, the aromas of certain dishes create an immediate craving. Not convinced? Stop by a local bakery first thing tomorrow morning just for a cup of coffee. What happens? You leave with coffee and the undeniably convicting evidence ... a plain white paper bag filled with pleasure.
Perfect topping - finishing touches
Security is a residual component of developing and sharing an intimate relationship. This natural progress of the relationship can be advanced by creating a definite confine or boundary signifying its importance. A canopy transforms a bed from a piece of furniture into a sanctuary perpetuating closeness and intimacy.
More Home Decorating Ideas - Recommended Reading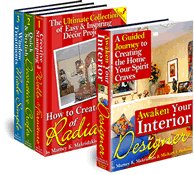 (1) The Awaken Your Interior Designer! Collection - Brought to you by Home Decorating Made Easy, this first of its kind collection of interactive guidebooks is guaranteed to help you decorate any room in your home faster and easier than ever before. You'll find lots of interior decorating ideas to create unique spaces that fit your family's lifestyle without spending lots of money.

Click here to go back to the home page for more great home decorating ideas! To share these tips about romantic bedrooms with others, click on the Facebook and Twitter buttons below.