Master Bedroom Decorating Themes - Feminine Victorian
_________________________________________
_________________________________________
When it comes to master bedroom decorating there are a number of themes you can choose. Of course what you decide on will depend not only on your personal taste, but also on your budget.
Another aspect to take into account when considering master bedroom decorating is the size of the space you have to work with. So take some measurements of the room.
This will tell you how much furniture and other items you can place in the room without making it too cramped and small. After all, your master bedroom should be inviting, not a labyrinth or an obstacle course.
Once you have all of your measurements, it is now time to consider a decorating style and theme. Some of the styles/themes to think about include:
* Traditional
* Transitional
* Southwestern
* Mediterranean
* Victorian
* French Country
* English Country
* Cottage
* Modern

Victorian Master Bedroom Decorating Decisions
Once you have decided on the theme, you can begin your master bedroom decorating. To give you an idea of how you can go about achieving a desired theme, the following is an example of some decorating choices you could make if you decided on a Victorian look for your master bedroom:
Typically Feminine - The first thing you need to take into account, if you are using Victorian decor for your master bedroom decorating plans, is that this particular look is considered quite feminine.
Therefore, you will want to make sure if you have a spouse or partner who shares your bedroom that this look is something they don't mind, or can live with.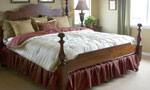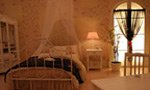 Elaborate and Showy Bed and Bedding - when it comes to the master bedroom decorating furniture for a Victorian styled room, the pieces, particularly the bed, are designed to be extremely elaborate.
A Victorian styled bed is usually a four poster made of cast-iron or wood. The bed itself is decorated with a canopy, curtains, various pillows and a comforter complete with all of the flounces and trimmings such as bows and ribbons.
Pretty Furniture Pieces - Keeping with the Victorian theme, your master bedroom should also include various furniture pieces such as a night table, which can be covered with a skirt, that has edges trimmed with lace, or you may be interested in purchasing an authentic wooden table that was designed specifically for the period.
To add the perfect touch to the night table, place a lamp that is fashioned with brass, porcelain or a crystal stand, or one that resembles a candle holder. Place the lamp, as well as any of the other items on your night table on a crocheted doily.
Rugs and Other Accessories - When it comes to decorating the master bedroom floor, nothing says Victorian better than an intricately patterned Oriental rug, or loom, that is fashioned with a variety of swirl patterns or floral designs.
As far as other accessories go, wood or gold framed paintings that depict scenes of maidens, flowers, birds and children are all excellent choices for wall decorations.
In addition, the windows of the master bedroom should be covered with heavy drapery made of rich fabrics, such as velvet, and are fashioned with all of the elaborate trimmings to create the prefect touch.
Regardless of your master bedroom decorating ideas, the key is to remain focused and true to the desired theme you have chosen. For more bedroom decorating articles, visit the links below.
More Home Decorating Ideas - Recommended books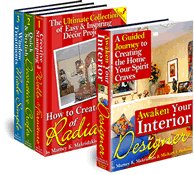 (1) The Awaken Your Interior Designer! CollectionBrought to you by Home Decorating Made Easy, this first of its kind collection of interactive guidebooks is guaranteed to help you decorate any room in your home faster and easier than ever before. You'll find lots of interior decorating ideas to create unique spaces that fit your family's lifestyle without spending lots of money.
Click here to go back to the home page for more great home decorating ideas! And click on the social buttons below to share these Victorian master bedroom decorating tips with others.