Bring Your Romantic Bedroom Ideas to Life
_______________________________________________
________________________________________________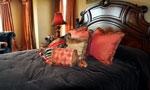 If you have romantic bedroom ideas you are likely thinking of different types of romantic decor themes such as Victorian, French and Tuscan.
Although each of these romantic themes differ slightly when it comes to color and precise furniture design, when it all comes down to it, the atmosphere they create is generally the same – cozy elegance.
Furniture – selecting furniture pieces will really help you get your romantic bedroom ideas rolling. For instance, one of the best furniture items you can include in a room that embraces romantic décor is a vanity.
Other great pieces include a settee, chaise lounge, armoire, antique chair, and antique bedside table. Dark wood such as chestnut and cherry wood are good choices for furniture.
Upholstery should include rich fabrics such as a light or deep, solid colored velvet or brocade.
Color –When it comes to color, great romantic bedroom ideas is to combine white with a warm and/or cool color. For instance, you could paint the walls a warm white and accent the white with lighter shades of red such as pale pink and dusty rose as the main accent color in the pillows, curtains, bedding and rug.
On the other hand, you could paint the walls a light shade of golden yellow and use shades of periwinkle blue and white as the main accent color.
Accessories – Romantic bedroom ideas in regards to accessories include vases full of flowers, paintings of flowers, floral throw cushions, area carpets, candelabras, etc.
Lighting – Lighting is important when it comes to creating a romantic atmosphere. Crystal chandeliers provide ideal general lighting and really add to the romantic theme.
If you would like to add task lighting, consider table lamps that feature dripping crystal prisms.
Window treatments – You should add long curtains to your bedroom window(s). Select curtains made from heavy material such as velvet and brocade, or choose lighter fabrics such as sheer or lace curtains. Any of these choices provide a very elegant and cozy ambience.
Bed – The best romantic bedroom ideas for your bed is to either have a four poster bed with a canopy, or a detailed headboard and footboard. Solid colored bedding, especially white, is an excellent touch to the rest of the rich décor throughout the room.
Be sure to dress your bed up with plenty of throw pillows.
What you will likely discover when investigating different color schemes and accessories related to French, Victorian and Tuscan romantic bedroom ideas is that these décors can become quite expensive.
However, did you know that there is another romantic theme you can use for your bedroom that won't put a hole in your wallet? Have you ever considered going on the cheap with shabby chic?
You can achieve the same romantic look with shabby chic as you would with any of the other themes. The only difference is this theme demands a little more creativity and thrift shopping on your part.
Regardless of the romantic bedroom decorating ideas that may swim in your brain, your goal is to create an environment that is warm, rich in color, elegant and inviting. For even more ideas, watch the video below.
Romantic Bedroom Ideas - Video
More Home Decorating Ideas - Recommended Reading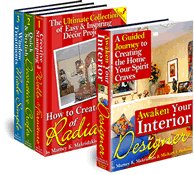 (1) The Awaken Your Interior Designer! Collection - Brought to you by Home Decorating Made Easy, this first of its kind collection of interactive guidebooks is guaranteed to help you decorate any room in your home faster and easier than ever before. You'll find lots of interior decorating ideas to create unique spaces that fit your family's lifestyle without spending lots of money.

If you know someone who might enjoy these romantic bedroom ideas, please click on the Facebook and Twitter buttons below.
To return to the home page, click on this link for more home decorating advice.