Bedroom Ideas For Those Who Are Decorating On A Budget
_____________________________________________
______________________________________________
Use the bedroom ideas below to reduce your interior decorating costs without taking away from the charm and comfort of your personal sanctuary. You'll find that creating a cozy bedroom doesn't have to be expensive.
10 Inexpensive Bedroom Ideas
Bedroom Idea 1: Paint it
There is no easier way to transform your bedroom. Paint will give you the most home interior decorating bang for your money.
Paint color can be used to create a mood that is warm and romantic or one that is vibrant and cheery. You can also give the walls texture and add interest by using a faux painting technique, painting stripes, etc.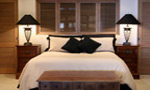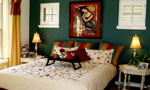 Bedroom Idea 2: Buy a smaller bed
I know that a king size bed sounds awfully tempting and inviting, but it can cost you up to 25% more than a queen size bed. In addition, the bedding to cover a king size bed will be 15% - 25% higher.
When searching for a bed, the focus should be on quality, not size. Therefore, I recommend that you purchase the most comfortable bed that you can afford for your budget.
Bedroom Idea 3: Buy a duvet cover instead of a new comforter
Duvet is simply the French word for down, but it is commonly used to refer to a comforter. A duvet cover is a comforter cover that protects your comforter and can be removed for regular washing. It can also be color coordinated to your bedroom.
So rather than buying a new comforter, you can update your old one by slipping a duvet cover over it. You'll save money and enhance the luxurious look and feel of your bed.
Of course, if you want to save even more money, you can make your own duvet cover by sewing two sheets together. Then, attach large decorative buttons or snaps to one end so that you can close it.
Bedroom Idea 4: Buy and over-sized armoire instead of multiple pieces of furniture
Many people make the mistake of thinking that the more furniture in their bedroom the better. Not me! I think lots of little pieces sprinkled about can make a room look cluttered. I recommend that you consider substituting an over-sized armoire for two or more furniture storage pieces.
In addition to being a beautiful piece of furniture, it will add height to your bedroom and make a bold statement. You'll appreciate an armoire's versatility and value.
Bedroom Idea 5: Mix sheets of varying quality
Like all bedding, sheets come in a range of prices. Try mixing inexpensive white and solid sheets with richly colored patterned sheets and other bedding.
Bedroom Idea 6: Hang ready-made draperies
It's no secret that custom draperies can get very expensive. Of course, if you're handy with a needle and thread, you can make your own.
But there are lots of ready-made curtain and drapery options available. If you want to save even more, just do what I did in a guest bedroom. In the picture below, I hung sheets because I was looking for a simple window treatment solution and to save costs.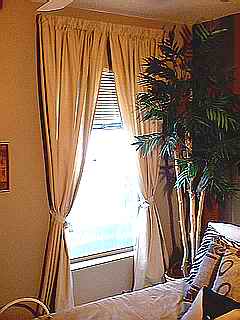 Bedroom Idea 7: Use decorator tables as night stands
Decorator tables are those round inexpensive tables that can be found in most discount department stores. Usually, there are accompanying glass tops and a selection of coverlets nearby. Decorator tables would make excellent side tables for your bed.
The full set-up should be under $30 per table. You can even be creative and make your own table coverings from pieces of fabric. For added decoration and texture, sew or hot glue your favorite fringe along the fabric's edge.
Bedroom Idea 8: Visit flea markets and consignment shops
Here in Florida, consignment shops are plentiful. I visit some of the better shops occasionally and have found some incredible bargains on accessories.
The good news is that many of the shopkeepers evaluate the quality of the items before displaying them. This saves me the time and aggravation of having to sort through a lot of junk.
Flea markets can also be very good sources for accessories and other furnishings. However, you'll have to be careful not to over pay. Just because something is sold at a flea market, it doesn't mean that you're getting the lowest prices.
Did you know that you can easily turn those flea-market finds and outdated items into beautiful home decor treasures? Check out the eBook, Quick & Stylish Decorative Crafts for the full story.
Bedroom Idea 9: Buy assemble-it-yourself furniture
Armoires, chests, desks, tables, chairs, bookcases, entertainment centers, and more are all available in assemble-it-yourself kits. The prices for these kits are less because they are easier to ship and the manufacturer has eliminated the expensive furniture assembly step.
Be sure to check the quality of what you're buying because the furniture pieces can range from very good to very bad.
Bedroom Idea 10: Create your own lamps
Your local crafts shop or home improvement store should have kits. Creating your own lamps is a snap.
You might even consider getting lamps with glass bases and pouring in colored beads, sea shells, faux jewelry, or anything else that matches your personality.
For more tips and ideas about this topic, check out the following resources.
---
Of course, if you're having a frustrating time getting your decorating project off the ground, I suggest you check out The Awaken Your Interior Designer! Collection. These unique interactive eBooks walk you through the decorating process step-by-step. In addition to countless ideas, you'll get the tools and knowledge to create beautiful and inspiring rooms with confidence.
Click on this link for more home decorating tips. And to share these bedroom ideas with friends, please click on the Facebook and Twitter buttons below.