Tips To Ensure That
You Buy The Right Size Bedroom Furniture
__________________________________________
__________________________________________
Before you make any firm decisions which bedroom furniture to buy, sketch out the space on paper with desired furniture pieces in place.
In addition to your bed, you may need furniture for storage, sitting, working, etc.
Have you defined all the activities that will occur in your bedroom and the furniture pieces that will support them? If not, you should perform this task before proceeding any further.
Your bed is the key piece of bedroom furniture, and it is generally the focal point. Note how the bed below is the star in the room.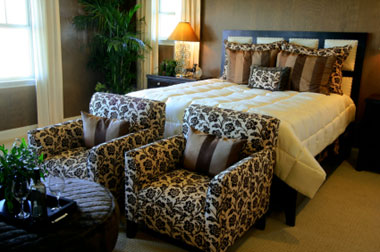 The one you choose is a matter of personal taste...
If you have a large bedroom, then a Four-Poster, Canopy, or Sleigh bed would work beautifully. If your bedroom is small, then a Captain's, Hollywood, Day or Platform bed might be more appropriate.
It is important to remember that the style of your bed and other furniture is not the only element that you must consider when selecting these items...
You should calculate the amount of available space in your bedroom, measure your furniture, and ensure that it will fit comfortably. Be sure to take into account unusable space near doorways and walk space through the room.
Use the following guidelines to help you choose the right size bedroom furniture:
The Right Bed
The right size bed is dependent on several factors that you must keep in mind. First, choose a mattress that is at least 4 inches longer than the height of the tallest person sleeping on it. The standard sizes for mattresses are:
Twin - 39 inches wide by 75 inches long
Extra-Long Twin - 38 inches wide by 80 inches long
Double - 54 inches wide by 75 inches long
Queen - 60 inches wide by 80 inches long
King - 76 to 78 inches wide by 80 inches long
California King - 72 inches wide by 84 inches long
Also, add the following:
Headboard - 4 inches to the length of the bed
Footboard - 4 inches to the length of the bed
Bedcovering - 3 inches to the width and length of the bed
Finally, allow approximately 18 inches around the bed for changing the linen.
When arranging your bed, try to avoid placing it under a window or where it will obstruct a doorway or walkway through the room.
If you have lots of space, try arranging the bed in an intriguing way, such as diagonally.
Other Bedroom Furniture
If your bedroom is small, don't think that you should run out and buy small furniture…
Rather than getting all those small pieces, I recommend that you buy a lesser number of larger bedroom furniture pieces.
For example, instead of a small chest of drawers and a dresser, go with an over-sized armoire. You'll get just as much storage space while adding height and drama to the room. And you'll still have extra space for another piece, such as a big comfortable chair.
Click here to see how I did it Bedroom Decorating Ideas.

You'll also want to get two nightstands or side tables. At a minimum, they should be as high as the mattress and be proportional to the size of your bed.
For something different, try placing two round tables on either side of your bed and draping them with your favorite fabric or coverlet.
But whatever you decide, don't make the mistake of placing two dinky nightstands beside a king sized bed. And don't limit your imagination to only purchasing bedroom furniture pieces from a matching bedroom set.
Click here for more great ideas to help you with your home decorating! Share this page about bedroom furniture with others. Click on the social buttons below.