Bathroom Design - Cost Saving Ideas
______________________________________________
_______________________________________________
So you're starting to see your bathroom design ideas come to life, but the costs are rising as well?
What can you do to regain control and still create an inviting oasis? Simple!
Bathroom Design Tips And Techniques
Use these bathroom design techniques to stretch your home interior decorating and design dollars:
Install vinyl flooring - you can purchase vinyl flooring that simulates tile, stone, and other surfaces. The price to install vinyl will be significantly less than installing tile.
Install standard white fixtures for tub, sink, and toilet - there is a reason that those standard white fixtures you see are the choice of professional home builders. They are simply less expensive. The good news is that if you sell your home, this is the bathroom design that buyers typically expect to see.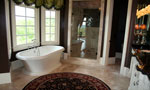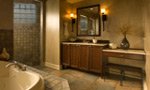 Install standard chrome fixtures for sink and tub - you'll find these to be less expensive than brass fixtures. However, there is a wide selection, so you should be able to find something decorative without paying a premium.
Install larger tiles on walls and floors - fewer large tiles will be needed to cover your bathroom floor and walls. As a result, the job should be completed faster and at less expense.
Hang a large mirror instead of tile - a mirror will add depth to your bathroom design and help to spread light around. Consider covering the wall with a larger mirror which would be a less expensive alternative to tile.
Install less expensive tiles - go with the plain white tiles on the walls and floor instead of more expensive colored ones.
Apply tile transfers - don't buy expensively patterned tiles if you want to add color and texture to the walls. Instead, apply tile transfers which are basically decals that you rub on to the clean tile surface. The decals are readily available in just about every imaginable design. They will not rub off, but can be removed with nail polish remover.
Visit consignment shops for used light fixtures - often you'll find high quality used fixtures priced much lower than new standard fixtures. Also, instead of the standard strip of lights above the bathroom mirror, consider something different. For example, in my guest bathroom design below, I replaced the plain light strip with an inexpensive, but decorative sconce.
There's a lot you can do to dress up second hand items. You'll find some wonderful ideas in our book called Quick & Stylish Decorative Crafts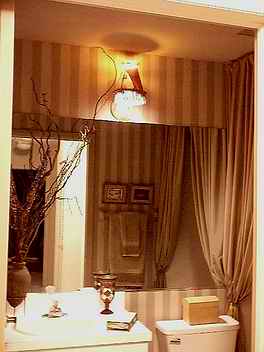 Watch for sales - where I live in Florida, I see lots of sales on tiles. Keep your eyes open to sales at hardware stores, and home and garden centers for both tiles and bathroom fixtures.
Of course, if you're like many people and just have a hard time getting started on your bathroom design and decorating project, I suggest that you check out our book Awaken Your Interior Designer. This unique eBook walk you through the decorating process step-by-step. Throw in the countless ideas you'll find inside and you have a can't miss resource for decorating success!
You can also get more bathroom design ideas from visiting our friends over at A Bathroom Guide.

Click here for more great ideas to help you with your home decorating! Do you know someone else who could use some bathroom design tips? Then share this article by clicking on the Facebook and Twitter buttons below.