Bathroom Wall Decor - How To Select The Right Accessories
_________________________________________________
_________________________________________________
Bathroom wall decor is very important to giving the bathroom warmth and personality. Without it, your bathroom will seem bare and dull. And, while you don't want to invite guests to spend too much extra time there, you want your bathroom to flow with the rest of the home.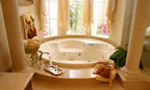 This means choosing bathroom decor that will both utilize and revitalize the space. To do this, you just need to follow the simple suggestions below. In addition, you'll find a video at the end of this article that will give you more ideas.
Bathroom Wall Decor Tips
These will help you choose the perfect bathroom wall decor:
One: function over all things. For most families, the bathroom is a fairly small space. So, the bathroom wall decor needs to do more than look good; it needs to serve a purpose.
Some helpful suggestions--towel racks, extra mirrors, shelving, etc. These will allow you to save your floor and cabinet space, and still give the walls texture.
Two: saving space. As was mentioned above, your bathroom wall accessories can allow you to save space. Instead of setting your towels in baskets to walk around, or having to put in small shelves to fill the corners and hold extra items, you can place them on the walls.
Few people remember to utilize the available space there and, instead, choose to suffer with little floor room to maneuver around.
Three: creating a look. Whether your heart lies with Italian design or contemporary chic, your home will have a certain style or look to it. This does not end with the bathroom. You should carry your sense of style into this part of your home, just as you would any room. Bathroom wall decor will help you do that.
While function is the most important thing, today's selections incorporate design elements as well. No matter what your style, you will be able to find wall decor that matches it.
Four: don't feel limited. Bathroom wall accessories also include the color or colors you choose for the walls. Whether you want to paint, stencil, hang wallpaper or borders, or do a combination of the three, your choice of background is important.
Bathroom wall decor encompasses all aspects of decorating and few aspects are more vital than a sense of color and pattern. This is the easiest way to solidify your style. So, you don't need to feel limited with bathroom wall decor. There are plenty of choices to make.
With these suggestions in mind, you can create the perfect bathroom for you and your family. Not only will it be functional, it will also be attractive.
Your bathroom wall accessories will continue your style and make the area work to your advantage. You shouldn't dread waking up in the morning, being forced to move in a cramped space.
For even more bathroom wall decor ideas, check out this short video.
For more information on this topic, visit these links
Recommended Reading for bathroom decorating ideas - Books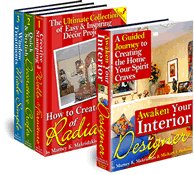 (1) The Awaken Your Interior Designer! Collection- Brought to you by Home Decorating Made Easy, this first of its kind collection of interactive guidebooks is filled with lots of bathroom decorating ideas. Create the warm, inviting bedroom of your dreams easier and faster than ever before without spending lots of money.



Click here for more great ideas to help you with your home decorating! And if you know someone who could benefit from these bathroom wall decor ideas, please click on the Facebook and Twitter buttons below to share.