Bathroom Decorating Tips To Make Your Master Bath Truly Luxurious
_____________________________________________
______________________________________________
When it comes to bathroom decorating, especially a master bath, the real fun doesn't begin until you start adding a few luxury items. The good news is that you don't have to fork over a lot of money to turn your master bath into an inviting oasis that would rival some of the best hotels.
Since I enjoy travel, I've stayed in numerous luxury suites and have seen all sorts of ways that hotels have worked to make my visits as pleasant and memorable as possible.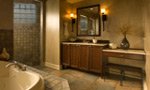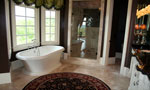 The bathroom decorating ideas presented below are a result of my experiences as well as personal touches I've tried in my own home. And after these tips, you'll find a great video with even more ideas.
Bathroom Decorating - Luxury Touches
Area rugs - provide a touch of softness for your feet. An area rug would also add color and texture to your bathroom, and give it life.
Cushy chair or bench - use it to relax and reflect or to lay back after doing your nails. Play soft music in the background…oops, getting ahead of myself… but I think you catch my drift :-)
Towel warmer - need I say more? What could be better than having a nice warm fluffy towel waiting for you after showering on a chilly day?
Plants/Flowers - the natural beauty of plants and flowers provide a calming effect…not to mention a wonderful decorative touch. Use live plants if your bathroom gets lots of sunlight, otherwise the silk version will work just fine.
Radio or CD Player - if you're going to relax in your cushy chair, you must have some tunes. By the way, if you go with a radio, definitely check out the Bose Wave radio. It's a little pricey, but quite an experience.
Extra large fluffy towels - can you really imagine getting the spa treatment without them? You can create scented towels by placing 3 - 6 drops of your favorite aromatherapy oil on a handkerchief and tossing it into the dryer with your towels.
Quality soaps, bubble baths, and shampoos - the goal of any luxury bathroom is make sure that you feel good when you're finished. So pamper yourself with quality scented oils, soaps, and other amenities that will thoroughly refresh your body and make your skin tingle.
Television - the small ones are fairly inexpensive. Better still, consider having it built-in.
Telephone - the first time I saw this in a hotel bathroom many years ago, I was very surprised. But, talk about convenience…you won't have to worry about missing that important call. Or, you'll have supreme privacy to place important calls.
Scented candles - relaxing and romantic, scented candles add a wonderful touch to your bathroom. Of course you'll want to use them in conjunction with your scented bath oils and salts.
Spa robe - your body will thank you every time you slip on an extra soft and fluffy spa robe made from Egyptian cotton. You should be able to find one at the better stores.

Built-in hair dryer - added convenience, especially for those days you're in a hurry. Ask your favorite handy man to build-in a hair dryer.
Paint the walls - a nice soothing color can be very relaxing. Better yet, add texture and depth by applying a rubber stamping technique. Rubber stamping is extremely easy and there are thousands of designs. To learn more, check out the book Creative Stamping for Walls & Furniture.
Bathroom Decorating Ideas (Video)
Now, check out this video for more tips. You'll notice that the topic of the video is staging your bathroom, but ignore that. The ideas are great even if you have no plans at all to sell your home.
I liked all of the ideas, didn't you? It's amazing how differently the bathroom looked after the changes. And I'm sure they didn't cost much at all.
---
If you'd like to explore some excellent books on bathroom decorating, please check out the recommended resource links listed below.
Recommended Reading for Bathroom Decorating Ideas - Books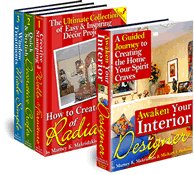 (1) *NEW* The Awaken Your Interior Designer! Collection - Brought to you by Home Decorating Made Easy, this first of its kind collection of interactive guidebooks is filled with lots of great bathroom decorating ideas. Create a warm, private bathroom oasis, easier and faster than ever before, without spending lots of money.
Visit this link for information about how to incorporate frameless glass shower doors into your bathroom's decor and design. And click here for more great ideas to help you with your home decorating!
Wait! If you know someone who could benefit from these ideas, don't forget to share. The Facebook and Twitter buttons are below. Thanks!