Secrets of a Beautiful Bathroom
by Scarlett
(Houston,Texas)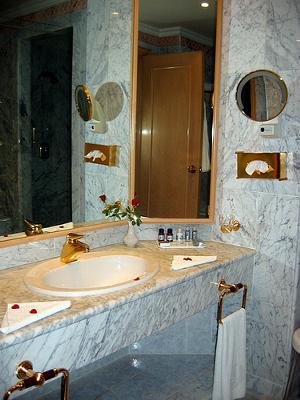 Have you ever looked at interior design magazines and wished you could have the perfect bathroom, with beautiful fittings, a bath that isn't scratched and includes a Jacuzzi, and a dream shower unit? Most of us probably have at one time or another, but many of us have neither the time nor the budget to realize our dreams.

So how can we make our bathrooms beautiful based on a low budget and using the fittings that we have?

There are a few simple things that we can do that will neither break the bank nor demand too much of us but will still improve the look of the bathroom tremendously. Here are a few of these easy ideas:

- Take a look around and see if there is any mold along the edge of the bath, between the tiles, and on the ceiling. Due to the constant use of water in a bathroom, this is a common problem. Scrub and clean as much of it off as you can before applying an anti-mold agent, which is easily purchased from any hardware store. If the ceiling or the wall is very moldy, you may find that this is not sufficient as stains may still be left, and you should buy some waterproof paint. You would be surprised how much better a bathroom can look once the mold has been removed.

- Take some time to polish the faucets. Sometimes cleaning them is not enough. A good polishing can make all the difference.

- Let's look at the tiles. Do they look drab and stained? If you are not able to change them at this time, consider buying adhesive stickers that are especially made for tiles and can be bought from any bathroom store. These stickers can make your tiles look like new and will brighten up any miserable-looking bathroom.

- Time to change or add some neat accessories. For example, you could change the shower curtain. You could also buy a soft area rug for that luxurious feeling when you first step out of the bath. Depending on the color scheme of your bathroom, you may want a blue rug or a yellow area rug. See what works for you, and what fits your floor. Depending on the shape of your bathroom and how much floor space you have, you may prefer an oval rug.

- What about heated towel rails? They are extremely useful for preventing towels from falling onto a wet floor, as well as providing some much-needed heat.

- Match the shower curtain, rug, and curtains for a really great look – tying them in with the color of the tiles, of course.

- Don't forget to make sure that your bathroom cabinets look good – no loose doors and ugly finger marks. Clean them up, and also make sure that everything works properly.

- Make sure that your bathroom heater works properly.

From the above, we can see that making your bathroom look better does not need to involve a lot of money or even time. What is most necessary are keeping everything clean and using a bit of initiative, and it should make all of the difference.

Head writer Scarlett has wide experience in interior design and decorating beautiful bathrooms. Take a look at House Of Area Rugs, the place to go for yellow rugs and pink rugs.