Paint Colors For Bedroom Walls
by HDME Staff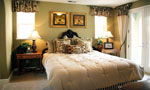 When choosing paint colors for bedroom walls, make sure you select the right one to match your personal objectives. Studies have been performed that show the relationship between the colors in a room and mood of the occupants. Based on these studies, it is easy to show that the decision of paint colors is an important one. After all, we want our bedroom to be a place we can retreat to and relax.

What bedroom paint colors help a person to relax best can vary from one person to another, but there are certain trends that should be considered when attempting to decide on paint colors for bedroom walls and trim. Many find that incorporating earth tones help them to relax and rest better. The theory is that these colors make the bedroom feel closer and protective like a cave.

Others find that forest colors, varying shades of green and brown, work better for them. Again, this is traced back to prehistory when man lived mostly outdoors. There are many variations on these colors from which to choose. For this reason, one should examine several different options and see what feels more relaxing to him/her before making a decision on paint colors for decoration and comfort.

One color that is almost universally accepted as being relaxing is blue. With an almost infinite number of tints and shades available, it is easy to create a color scheme that takes advantage of this fact. One can use light and dark shades of blue or make blue the main color and incorporate a complimentary or adjacent color from the color wheel to create better contrast.

Sometimes, the rest of our environment can influence the decision on paint colors for bedroom comfort. For example, those who live in a desert region may choose to apply forest colors to create a contrast with their surroundings. They may also choose to use more blues to represent water and make this important space feel cooler and more relaxing.

A lot of factors go into choosing paint colors for bedroom spaces. The primary goal is to choose colors that help a person feel more relaxed so that he/she can better rest. Studies have shown that certain colors are more relaxing than others, but the truth is that individual taste will have the most impact on what color choices will be most relaxing for any given individual.

Environmental factors can also determine what paint colors for bedroom are more relaxing and what colors tend to energize a person and brace him/her for facing the world.