Luxury Living Rooms - Finding Perfection
___________________________________________
____________________________________________
When it comes to creating luxury living rooms, you can't go by other standards--luxury is a concept that can't be easily defined. So, you have to decide what is best for you.
Luxury living rooms can be anything, depending on what you want and what your style. So, this will not tell you what you should purchase to create dream living rooms. Instead, this will explain the ways to decide what you need to make the room of your dreams.
One: decide your style. For luxurious living rooms, you may want to go in a new direction. If your home is a decorating hodgepodge, then you should not try to bring that into luxury living rooms. Choose one style and go with it.
We suggest this because luxury should be different than the normal. Even if you like multiple styles and techniques, this will not make your luxury living rooms stand out from the rest of your home.
Instead, it will merely make them appear...common. And luxury, no matter what style it comes in, should never be common. So, to achieve a look of excellence, pick a style and run with it. The traditional living room below oozes sophistication while retaining it's inviting appeal.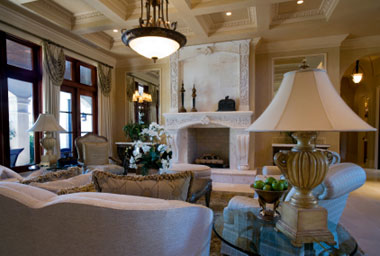 Two: get the dimensions. Once you have chosen the style you wish to decorate luxury living rooms in, you need to know exactly how much you can do. Whether you are blessed with a large area or a smaller one, you need to understand the limits each room possess.
And do not think that, because a room is small, that it cannot be luxurious. Often, smaller areas have an advantage over their larger counterparts because they take less effort to decorate and can create an intimate setting. Never try to purchase furnishings and accessories before knowing what you can work with.
Three: buy the furniture. After you have decided on a style and know the dimensions of your luxury living rooms, you can start shopping. There is no set rule for buying furniture--you should just make it count.
Every style has its higher standards. Whether you go for the polished looks of contemporary or the opulent decor of Victorian, your chosen style will have the furnishings to create luxury living rooms.
Four: add the extras. Furniture does not complete a room, especially one meant to be luxurious. You need accessories and extras--this includes paint colors, draperies, paintings, etc. These complete the room and transform it from a simple display of quality furniture to an actual part of your home. The living room below is using an entertainment center as it's focal point. The lighting and accessories give it a warm and homey feel.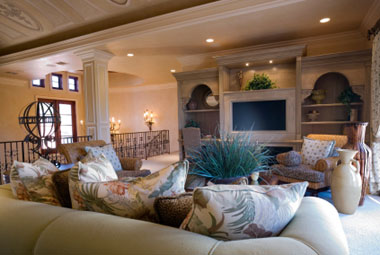 Luxury living rooms should never just be a nice looking sofa or table; they should be an integral part of your household.
By keeping these suggestions in mind, you will be able to create luxury living rooms that will incorporate your favorite looks and make them seem even better. Instead of just another room, you will have a place of style and elegance, a place to stun your guests and create an area perfect for your family.
Click here for more great ideas to help you with your home decorating! To share these tips about luxury living rooms, please click on the Facebook and Twitter buttons below.