Decorating Ideas For A Living Room
Your Haven for Relaxation, Working, Reading, or Entertaining
_____________________________________________
______________________________________________
When you're entertaining decorating ideas for a living room, keep in mind that this is an all-purpose room which needs to provide the best of all worlds. A room to relax, work, read and entertain in has a lot to live up to.
This is the place that guests will see most of, especially if it's used as a dining room too. It's also the room whose furnishings are going to get most wear, and the one you'll tire of fastest if you make the wrong decorating decisions, so it's worth taking time to plan what you want.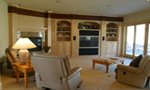 The first job of a living room is to provide an easy, relaxing place to spend time, so don't plan anything too formal.
When implementing decorating ideas for a living room, you want to aim for something that looks good but is practical enough for everyday use - and your guests will be far more impressed with a room that feels really comfortable than with a scheme that's too smart to touch!
If you use the room as a work area, you'll need at least part of it to maintain an organized, clutter-free structure where you can keep books, papers and other work in order. If you have children, it may end up as a playroom too, in -which case your choices will have to be hard-wearing, easy-to-clean and non-breakable.
And as well as providing enough seating for however many people you envisage using the room at one time, it's going to need storage space for things like televisions, video recorders, hi-fi equipment, books, records, cassettes and CDs.
More than any other room, your living room will identify your own personal style. Because it's the room people will see most, it's the one they'll automatically associate with where you live. But if it's going to be all things to all people, it can't afford to be too unusual in style, so when considering decorating ideas for the living room, stick to a versatile color scheme - and save your more idiosyncratic ideas for your own bedroom.
The first thing to bear in mind when considering decorating ideas for the living room is that the living room will get more daytime use than most areas of your home, so when you're choosing the wall color, think about the direction it faces and the amount of natural light available. You don't want a living room to be gloomy or mysterious, so look for a color with a good light-reflective quality.
This doesn't mean that you're stuck with white: soft blues, aquas and mauves will all work well in brightly lit sitting rooms (and will also help to cool the effect if it's too bright), while yellows and pinkish creams will warm up a darker room.
Once you've got a light, relaxing background to work against, you can add darker floor and furniture colors that won't show the signs of everyday use. You can then start adding your own personal style - with accessories and details - painting woodwork in a contrasting color, using your favorite colors for curtains and cushion covers, and hanging pictures to add interest to the walls.
If you can afford one major purchase for your new home, a good-looking sofa is a really worthwhile investment and will provide a starting point for your color scheme.
Decorating Ideas For A Living Room - Lighting
Your lighting needs to be at its most flexible in the living room, adapting from daytime to evening use and changing the mood from practical to restful. So plan your lights carefully, make sure that you've plenty of power sockets to provide lamps where you need them, and if possible fit dimmer switches so that the level is easy to adjust.
The bigger the room, the more difficult it is to light, so living rooms really benefit from wall lights and side lamps. Floor-standing lamps are particularly useful as they can be moved around to highlight different areas.
For instance, if you're entertaining friends for dinner you can position your lights around the eating area so that the predominant feel is of a dining room; or if you just want to sit and relax you can readjust the lights so that the sofa and chairs are the focal point.
Task lighting in a sitting room doesn't need the strong beam of a kitchen work area. If you're using it for reading or sewing, it's the direction of the light that's more important.
Jointed lamps such as the Angle-poise are ideal, but if you'd prefer something less functional-looking, a -well-positioned table lamp or floor-standing lamp will do the same job. Alternatively, fix a rise-and-fall pendant light where you can lower it over a work table.
For more tips about lighting and accessorizing your living room, watch this short video.
If you'd like to explore some additional resources on this topic, please visit the links below.
Get more decorating ideas for a living room - Books
Decorating ideas for a living room and more in...The Awaken Your Interior Designer! Collection - Brought to you by Home Decorating Made Easy, this first of its kind collection of interactive guidebooks provides a unique step-by-step approach for creating beautiful and inspiring rooms easier and faster than ever before. You'll find all kinds of money- and time- saving tips, including decorating ideas for a living room and tons more. Your success is guaranteed!


BACK to the home page for more great home decorating ideas! And please click on the social buttons below to share these decorating ideas for a living room with friends.