Living Room Ideas: Working With Styles and Furniture
_______________________________________________
________________________________________________
In a hurry and need some quick living room ideas to help with styles and furniture? Try these below. But first watch this short video that will provide some great inspiration.
Living Room Ideas - Interesting Styles
Pretty and contemporary. Light, pastel colors. Pinks and peaches with soft greens; blues and misty grays; aqua and lilac.
White woodwork. Floors in muted natural or pastel colors, or wood with pretty rugs.
Minimal and understated. White or cream walls. Wood or natural matting on the floor. Recessed ceiling lights, with wall washers. Keep fabrics plain - linens and muslins - or choose simple black and white designs, or striped mattress ticking. Make a display of black-and-white prints or photos in inexpensive frames.
Faded and traditional. Tapestry-work fabrics. Velvet cushions - and the colors of faded velvet for other fabrics and carpets: deep rose, old gold, moss green. Traditional-style woven rugs. Wall bracket lights and painted-wood chandelier fittings.
Country cottage. Shutters instead of curtains. Painted wood and wicker furniture. Small-patterned fabrics and prints - flower sprigs, checks, polka dots and ginghams. Plain cottons. Display shelves and plate racks.
Bright and tropical. Blues, greens, lemon and violet. Vivid citrus and parrot colors. This is the sort of look that can almost turn a room into a conservatory. Light wood and cane furniture, or painted wood. Crisp cotton fabrics. Terracotta- and ceramic-tiled floors.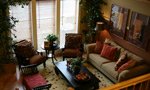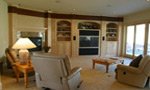 Living Room Ideas - Planning the Shape

Keep the overall shape of the room in your mind as you position your furniture. This is important in any room, but particularly in a living room.
Because the space has so many roles to play, it's all too easy to fill it with more and more useful items until it becomes a sort of shapeless muddle. The smaller the room, the more carefully you have to plan it.
Work out your sight lines while the room is more or less empty. Look at it from the doorway and from -where you're planning to put your sofa or favorite chair: these are the two most frequent views you'll get of the room as a whole. Windows and fireplaces are natural focal points, and in rooms with good light there may be an area of interest opposite the window, where the light falls.
Living Room Ideas - Seating

The traditional three-piece suite is far too big and cumbersome for most living rooms, because if you want a good-size sofa you get two hefty armchairs as well. If there's space for only one large piece of furniture, you're far better off splashing out on exactly the sofa you -want and then adding smaller-scale chairs and stools.
Low fabric-covered footstools or higher piano-stool designs can be kept out of the way beneath a table when not in use, and plain wooden stools will double as occasional tables too. And because they're not part of a set, their use is far more flexible - you can always move one of them on to a bedroom or wherever else it's needed.
Don't feel constrained to stick to the three-piece suite 'triangle' either. You probably won't have much choice about where you put the sofa, but think practically about where the other chairs will look best and be most help.
Consider which areas of the room will get most use, and the places people will need to reach. And don't be tempted to arrange all the seating facing the television - it makes a very unattractive focal point!
Remember that if your sofa is also a sleeper, it needs to be positioned where you can fold out the bed without having to move other furniture. Don't box it in between pieces that are too heavy to shift easily.
Another option when considering living room ideas is to do without a sofa altogether. A mix of chairs in different styles and fabrics looks just as good, and makes more use of the space. Or you can use a chaise-lounge or day bed as an alternative sofa.
The advantage of both these is that they haven't the usual padded back of the sofa, so they won't project as far into the room. The traditional chaise-lounge has an armrest on one side only - like half a sofa - which makes it much less bulky and doesn't cut across the room so obtrusively.
A day bed, usually designed on a wooden frame curving up into low, carved arms at both sides, can be set flat against a wall and piled with cushions which will act as a back rest.
Living Room Ideas - Fitted Furniture

If you are very pushed for space, back-to-the-wall furniture that keeps the center of the room free can be the most practical solution.
Built-in units will provide a clutter-free home for the television and hi-fi equipment as well as books and music.
Additionally, armchair seating in block-designed units can be assembled into as long or short a sofa as you need and will fit neatly around corners without wasting space.
This style of furniture tends to suit modern homes best, but the beauty of its modular construction is that you can add extra units as you need them, so it is very versatile and adaptable.
Finally, some last minute living room ideas for decorating spicing up your home:
Don't try to cram in too much furniture - be ruthless and consider where else in the house various pieces might be useful.
Keep the background color light and versatile, and add more interest with furnishings and accessories.
Stick to a neutral floor coverings, or a painted one so that the color can be changed to match furniture additions later on.
Make sure that lighting can be adjusted to suit different moods and activities.
Make use of inexpensive fabric lengths for loose furniture throws and instant cover-ups.
I hope these living room ideas have been helpful. If you'd like to learn more about this topic, check out out recommended reading below.
Recommended reading for more ideas - books
Lots of living room ideas in...The Awaken Your Interior Designer! Collection - Brought to you by Home Decorating Made Easy, this first of its kind collection of interactive guidebooks is filled with lots of original decorating ideas. Create the warm, inviting living room of your dreams easier and faster than ever before without spending lots of money.

BACK to the home page for more great home decorating ideas!