Living Room Decorating Ideas to Match Your Lifestyle
There are various living room decorating ideas that you can explore if you are interested in changing the look of your room interior.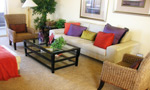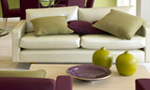 You may be thinking about completely redoing your living room, or you might be thinking of freshening it up.
If you are only interested in giving your living room a fresh look, some living room decorating ideas you may want to think about include:

* Rearranging the furniture in the room
* Repainting the walls, adding wallpaper or creating a stencil border on the walls
* Changing or purchasing an area rug for the sitting area
* Adding, changing or rearranging decorations
As you can see it is easy to use a variety of living room decorating ideas to bring life back into your living room. Don't forget, you can also change the decorations, and rearrange the room with each passing season to keep giving your living room a new look.
If, on the other hand, you are aiming to give your living room a makeover, here is some living room decorating ideas you can take into consideration:
Living Room Decorating Ideas
Simple Theme - If you would like to keep your living room simple and elegant, you may be interested in living room decorating ideas that are of the traditional, modern, or romantic style.
These simple themes are all about using few and trendy furniture pieces, complete with decoration accessories that are sparsely placed about the room. Flooring is usually hardwood, tiles, or a soft light wall-to-wall carpet, and walls are primarily colored in light, inviting, cheerful shades of white, yellow, green, pink, etc.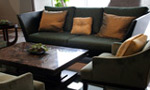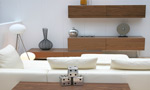 Elaborate Theme - The more elaborate living room themes, are those that are based on the Victorian, Mediterranean, Old World, Southwestern and so on. The living room decorating ideas that usually go along with this theme often include authentic furniture pieces that are made to resemble the look of the specific time period.
In addition, upholsteries, covers and draperies that are used in the room are often made of rich fabrics, are embroidered, and are fashioned with extra flounces and trimmings of lace, ribbons and bows.
Flooring is primarily hardwood, and the walls could be wallpapered, or painted light shades of pink or white. Popular wall art decorations include paintings of maidens, children, etc.
Comfortable Theme - living room decorating ideas for a comfortable themed room are often based on the room designs of cottage, country, and shabby chic. Each of these themes is relatively low budget, due to the fact that decorations can be mixed and matched.
Furniture can be painted all one color; couches can be covered with slipcovers with floral patterns, swirl or striped designs or a plain color. Flooring can be hardwood, tiles decorated with stencils, or wall to wall carpeting.
Walls are usually colored in warm tones of honey, browns and terracotta, as well as white or green. Accessories include a variety of different rustic objects.
Despite what you may choose as the theme for your living room decorating ideas, you will want to remember that area rugs are an excellent addition to a living room, especially if your room is large. The reason for this is because area rugs define the sitting area.
Moreover, when considering living room decorating ideas it is important to keep a decent amount of space in your living room, and to keep the colors warm. After all, your living room is usually the first room that visitors see, and is most likely the place you and your guests would like to relax and enjoy one another's company. For more living room decorating inspiration, watch this short video.
Related Products - Living Room Decorating Ideas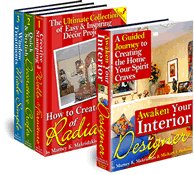 (1) - The Awaken Your Interior Designer! CollectionBrought to you by Home Decorating Made Easy, this first of its kind collection of interactive guidebooks is guaranteed to help you decorate any room in your home faster and easier than ever before. You'll find lots of interior decorating ideas to create unique spaces that fit your family's lifestyle without spending lots of money.
Click here to go back to the home page for more great home decorating ideas!