Table Decorations Centerpieces Create an Enchanting Environment
______________________________________________
_______________________________________________
Table decorations centerpieces add interest, character, and a finishing touch to a special occasion.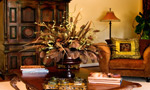 They can convey a theme and provide an enchanting table design.
Table centerpieces can add a whimsical touch or impart a feeling of elegance to your setting.
The items that you use in your table decorations centerpieces reflect your personality, interests, your heritage, and your lifestyle. By creating table decoration centerpieces, you aren't only creating beautiful table settings.
You are also enhancing your home and celebrating your family and friends.
It is a good idea to keep table decoration centerpieces changing, depending on the mood, season, and occasion.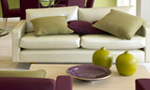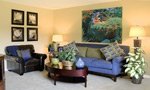 Experiment with different design materials, looking for similarities in lines, forms, and ideas between various objects. Color and texture can create a mood.
Be aware of the spaces created between the objects, and observe how parts of a design balance one another or create a flowing rhythm.
Mix smooth textures together or use coarse textures with smooth ones. Combine similar colors and then accent your table decorations centerpiece with a contrasting color.
When guests are seated at the table, use low table decorations centerpieces, such as baskets, low bowls or flowers or greens, or small ceramic figures combined with a few flowers on a mirror base. Candlelight is both dramatic and functional, casting a flickering glow around the room.
Candles must be tall enough for the flame to be above eye-level of the guests when seated, and if the candles are part of the table decorations centerpiece, they should be lit. Using candlelight and low lamp light will create a magical mood.
There are many different items that can be used in your arrangements: antique and modern glass, small potted plants, candles, hurricane lamps, fresh cut flowers, food centerpieces, floating candles, and mirrors.
Additionally, beautifully carved fruits and vegetables, ice carvings, and butter creations can be arranged to form centerpieces.
All table centerpieces utilize elements of design that you should be aware of. These are space, form, line, texture, ornament, light, color, scale, proportion, balance, symmetry or asymmetry, rhythm, emphasis, and harmony.
It takes some time to learn about these elements, but after a few experiments, you will begin to organize spontaneously, so don't become discouraged. Examine the shape, color, and texture relationships, and notice that by adding or taking out one item, you can often determine what needs to be changed.
There are several important things to keep in mind. Your centerpiece should look attractive from all angles.
Usually, an odd number of items make a more interesting grouping than an even number. Different heights of elements create a more pleasing effect.
Also, be sure you place your centerpiece so that it does not interfere with any wall arrangements or artwork, or with table settings around a dining table.
Keep your table decorations centerpieces simple, or design them around a particular holiday or theme, a special occasion or mood. Your originality, sense of visual balance, knowledge of design, the number of guests and type of service planned will determine the most attractive and convenient placement.
Holidays and special occasions are events filled with wonder and excitement. Creating an enchanting environment is easy to do with well-chosen and thoughtfully placed table decoration centerpieces.
Table Decorations Centerpieces - Video
Dressing up your table a little bit doesn't have to only occur for special occasions. Nor does table centerpiece have to be made with flowers. For example, check out this video for a great idea for a centerpiece.
After watching the video, keep in mind that you don't have to use those same materials. Just take the idea and then change it up to match your personal style.
Recommended reading - books
The Awaken Your Interior Designer! Collection - Brought to you by Home Decorating Made Easy, this first of its kind collection of interactive guidebooks is filled with lots of original decorating ideas. Create the warm, inviting home of your dreams easier and faster than ever before without spending lots of money.
Click here to go to the home page for more great home decorating ideas! And if you know someone who would enjoy this information about table decorations centerpieces, please click on the Facebook and Twitter buttons below to share.