Choosing Wall Home Decor
Wall home decor is not a simple matter; it's more than just picking out random items to fill your empty walls--it's about continuing your preferred style and adding the finishing touches to your home.
Even if you have the perfect furnishings, your rooms will appear incomplete without suitable wall home decor. So, how do you choose it? How do you find the perfect look? It's actually quite easy:
One: choose what fits. You have style and, even if it changes from room to room, each area has a specific look. Your wall decor should match that. If you love country decor, but select contemporary pieces for your walls, it will clash.
This is just common sense. Your wall home decor should be a continuation of your style, not a new version of it.
Two: keep the room in mind. If you are decorating a living room, you would select pieces that suit it. These same pieces would not be found in a home office or bathroom. Your wall home decor should match the room it's in.
While you may find a beautiful piece to hang, you should never assume that, if it matches the style, it must match the room. Just because you carry on a certain theme throughout the house does not mean that all wall decor will apply to every area.
Also, some rooms will require certain pieces. For example, a home can always use shelving. This counts toward you wall home decor and, without, the room would seem odd.
Three: create variety. Your wall decor should never become monotonous. Just because a certain picture looks good does mean that you should buy tons of prints just like it.
Your rooms need variety. To accomplish that, you should chose from the wide selection of wall home decor. Some of these include:
- Friezes
- Sconces
- Mirrors
- Paintings
- Pictures
- Wall Fountains
- And more!
Of course, your wall home decor is not limited to just items. It includes the color you choose from the walls, any borders or wallpaper you hang, any stencil or mural work you do and anything similar. Combining these ideas always adds the right amount of variety.
For example, if you chose to paint three of the four walls one color and then used the fourth to showcase a mural, it would make the area pop. Your wall home decor should never be dull.
Commit these suggestions to memory for they will make it easier when you need to go shopping for the perfect wall home decor.
No room is complete with bare walls--even with the most minimal of styles, you still need something to draw attention to the entire room, not just the furnishings.
Whether you simply want to paint, or fill your walls with extras, the choices are endless. Just be sure to make a choice. You need wall decor. It's not just a continuation of your style; it helps complete your rooms, making your home seem...well, like a home. And don't forget to include wall home decor in your foyer decorating plans.
Recommended Reading for more home decorating ideas - Books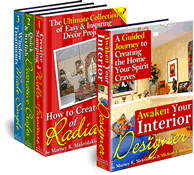 (1) *NEW* The Awaken Your Interior Designer! Collection- Brought to you by Home Decorating Made Easy, this first of its kind collection of interactive guidebooks is filled with lots of home decorating ideas. Create the warm, inviting bedroom of your dreams easier and faster than ever before without spending lots of money.



Click here for more great ideas to help you with your home decorating!