Decorating Small Bathrooms - Tips To End Your Frustration
_______________________________________
________________________________________
Decorating small bathrooms can turn a claustrophobic and depressing space into a cozy and bright room.
No matter how a small bathroom is decorated, it is still a small space.
And if it feels dim, dark, and tiny, it will ultimately be uninviting. Some simple design tricks canwork a little magic on this room.
There are some great decorating tricks that can be used to visually enlarge small bathrooms. You can choose from several common sense ideas, and find the best solutions for your particular space.
By adding accents and accessories, you can, by decorating small bathrooms, make them seem larger and more inviting.
Below are some cost-effective solutions to make your small bathroom appear roomier. And at the end of this article, you'll found a video that is loaded with more tips.
Tips For Decorating Small Bathrooms
Begin by deciding on a style and color scheme. This creates a focus that will help you in the decision-making process.
Pale color schemes, instead of bright patterns, give the illusion of more space. Consider pastels, neutral tones, white, and cool colors, such as blues and greens, which impart a feel of calm and space.
When deciding on a style, make sure it fits with the overall look of the room. There are a large number of styles to choose from, such as modern, traditional, whimsical, and formal.
Use wallpaper with matching fabric for the shower curtain and drapes. The continuity of patterns and color will impart a unified look that makes a dramatic statement when you are decorating small bathrooms.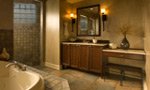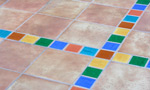 For a more refined, luxurious look, use fabric shower curtains with printed, woven, or embroidered patterns. Vinyl shower curtains can create a more casual, whimsical feeling. Your shower curtain is often the most dramatic accessory in your bathroom and can profoundly change the look of the room.
Liven up your small bathroom by adding a matching bathroom ensemble. This could include a wastepaper can, a water glass, a tissue holder, toothbrush holder, soap dish or dispenser, and jars for cotton balls and Q-Tips.
If your space is extremely limited, go for just the wastepaper can, soap dish or dispenser, and water glass. There are a great variety of styles to choose from, but make sure the style you choose fits with the overall style of the room.
Reduce anything that sticks out into the room and stops the eye, making your room appear to shrink. Also minimize all large protruding accessories, wall shelves, cabinets, hanging racks, etc., that cut into the room, making it look smaller.
Add lighting to the room to open up the space and create a particular mood when you are decorating small bathrooms. Recessed spot lighting is both elegant and has a low profile that is perfect for a small space.
Another option is to add wall sconces or small table lamps that will give a warm glow to the room. Skylights and large windows are other alternatives for bringing more light into the room when you are decorating small bathrooms.
A pedestal sink will instantly create the feeling of a more spacious bathroom. However, since this will eliminate the storage space under the sink, make sure you have space in a nearby linen cupboard or closet. Limit your accessories to avoid the feeling of clutter. For example, use only one large rug and a few neat towels.
With a little planning, knowledge, and creativity, you can visually enlarge a small bathroom and make it seem as spacious as a luxurious spa. For even more small bathroom decorating ideas, watch this video.
More Tips For Decorating Small Bathrooms
BACK to the home page for more great home decorating ideas! If you think these ideas for decorating small bathrooms would be helpful to someone else, please click on the Facebook and Twitter buttons below to share.