Not All Ceramic Floor Tiles Are Created Equal: Find Out why
____________________________________________
_____________________________________________
Here in South Florida, where I live, ceramic floor tiles are quite common in homes. With good reason too...
You won't find a better flooring solution that offers as much variety and durability. In addition to being durable, ceramic tiles are scratch resistant, low maintenance, fire resistant, water resistant, environmentally friendly, and BEAUTIFUL.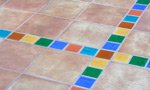 Ceramic tiles are a natural product made of clay and have been around for centuries. They come in a wide variety of colors, shapes, sizes, textures, and patterns.
If you've been contemplating replacing your current flooring as part of a home interior decorating project, ceramic floor tiles would be an excellent choice.
They will also mix well with wood flooring and carpeting to create a wonderfully complex flooring design.
Use the information below to help increase your knowledge of ceramic tiles and to make your buying decision easier.
Classifications Of Ceramic Floor Tiles
When purchasing ceramic tiles, wear is your most important consideration. Follow this "wear ratings" scale from the Porcelain Enamel Institute to select the appropriate ceramic tiles for your home:
Group I: Tiles that are suitable for residential bathrooms with light foot traffic. Generally, "wall tiles" fall into this group. Some wall tiles can be used on the floor. Consult the manufacturer.

Group II: Tiles that can be used in residential traffic areas, except areas with high traffic, such as in kitchens, foyers, laundry rooms, etc.

Group III: Ceramic tiles that are recommended for all home installations.

Group IV: Tiles that are suited for all homes and light to medium commercial businesses.

Group V: These tiles can be installed in heavy traffic areas and are recommended for wet areas where safety is a concern, such as in food service and exterior areas, and shopping malls and swimming pools.
Ceramic Floor Tile Production Methods
Bicottura - is an Italian word meaning "double fired". The clay body is fired on the first pass through the kiln, and the glaze is applied and fired on the second pass through the kiln. This process is only being used today for decorative wall tile products.

Monocottura - is an Italian word meaning, "single fired". The tile passes through the firing process one time at a temperature of 2200 degrees. Monocuttura tiles have denser bodies and harder glazes than Bicottura tiles.
Types Of Ceramic Floor Tiles
Glazed - The most common style today in floor and wall tiles, used for home and business applications. The glaze is achieved by applying a liquid glass to the body of the tile before it is fired at high temperatures.

Unglazed - There is no glazing or any other coating applied to the tile. The most common unglazed tiles are the red quarry tiles or the granite looking porcelain ceramic tiles used in heavy commercial areas.

Because these tiles are porous it is recommended that a special penetrating sealant be used to maintain this type of floor and to help prevent stains from seeping into its pores.
Maintaining Glazed Ceramic Tiles
Keeping your ceramic floor tiles clean is a fairly easy task. Just remember these simple do's and don'ts:
Sweep or Vacuum glazed tile regularly.

Wash Tile Regularly to remove dirt and grit. Clean with a mild, diluted detergent solution and follow this by rinsing with clean, warm water. (Note: I have found that mixing one cup of vinegar per gallon of warm water also works well as a general cleaner.)

Avoid Ammonia Based Cleaners because they may discolor your grout. Also, do not clean glazed tiles with oil-based cleaners.

Never Wax Glazed Tile because this will result in a waxy build-up on the glazed finish and make the tile slippery. Don't worry, the tile will retain its natural shine for life.
When selecting ceramic floor tiles for home interior decorating, size does matter. Larger tiles will make a room seem smaller, and the opposite is true for small tiles. Darker color tiles will also make a room seem smaller, while light color tiles can open up a room.
Click here for more great ideas to help you with your
home decorating!
Do you know someone else who might be thinking of changing their flooring? Then send them this information about ceramic floor tiles by clicking on the Facebook and Twitter buttons below.