Laying Ceramic Floor Tiles In An Imperfect World
__________________________________________
___________________________________________
Laying ceramic floor tiles in your home provides a durable surface for kitchen, bathrooms, hallways, and sunrooms.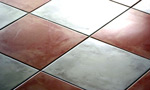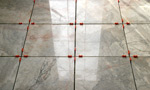 The tiles look best when laid out in straight lines and square to the walls.
This requires a bit of layout prior to installation. In a perfect world, all walls and floors would be straight, flat, and square. Unfortunately, that is often not the case.
First, accumulate your supplies and be sure that you have everything you need. Once you are ready to begin working, you want to make sure that you have everything there that you are going to need.
For instance, do the colors of the tile match? Some variation can be esthetic, but that's a personal design choice.
Sometimes, before laying ceramic floor tiles, it's a good idea to compare tiles from different boxes so that any slight discrepancy in color is integrated into the overall look of the job. Another important point is that you should always buy an extra box of tiles in case you break or crack some.
You will need to evaluate your work area to determine the best layout for laying ceramic floor tiles. If you have one wall that stands out, you will want your tile to be square to this wall.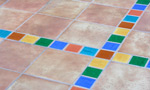 Laying ceramic floor tiles can be easy as long as you establish accurate working lines.
You are creating a kind of map to follow to assure an attractive, quality job.
Your layout should be plotted so that there will be full size tiles in high visibility areas, and all border tiles measure at least a half tile or more. All working lines should be easy to see.
Before you start working, remove anything that will be an obstruction or might get wet. Cover any drains in the room with tape so that debris won't fall into them and cause a clog. If there is a sink, protect it will cardboard so it will not become scratched.
Then remove all baseboards, doors, and window trims, being careful not to damage the walls in the process. Remove faucet handles, showerheads, and spigots. Also, remove the toilet, being sure to turn off the water supply first!
The correct backing for a tile surface is extremely important. Backings for interior floors consist of exterior-grade heel-proof plywood or mortar based backer board.
If you are installing a new backing, it is wise to staple polyethylene plastic on top of the surface to prevent water from penetrating through to the subfloor. If putting down plywood, leave a slight gap between panels and edges to allow for slight expansion and contraction.
If you are installing tile in an area that is going to be exposed to water, use a waterproof adhesive so that it will not deteriorate. If you are laying ceramic floor tiles in an area that is not exposed to water, you can use an adhesive that is not waterproof. Epoxy adhesives can also be used, but their drying times can be difficult to predict.
To begin, pour adhesive on a square yard of floor and spread it evenly with the trowel. Then swipe over it with a notched spreader. It is essential to space your tiles out evenly. Plastic spreaders are sold for this purpose.
Finally, wipe off any adhesive on the surface of the tiles with a cloth dampened with either white spirit or water, depending on the adhesive. Tiles must not be walked on for twenty-four hours after laying ceramic floor tiles.
Allow the floor to dry completely and then polish the surface of the tiles with a dry cloth. Twenty-four hours after laying ceramic floor tiles, you will have low maintenance, fire, scratch and water-resistant resistant, environmentally friendly - and most important of all - a beautiful, artistic floor.
To get a visual of how to lay ceramic tile in a kitchen, check out this great video.
Laying Ceramic Floor Tiles - How It's Done
I hope this information on laying ceramic floor tiles has been helpful.
The Awaken Your Interior Designer! Collection - Brought to you by Home Decorating Made Easy, this first of its kind collection of interactive guidebooks is filled with lots of original decorating ideas. Create the warm, inviting bedroom of your dreams easier and faster than ever before without spending lots of money.

Check out the home page for more great home decorating ideas. And to share this information about laying ceramic floor tiles with your friends, click on the social buttons at the bottom of the page.