Decorating With Area Rugs: Watch Your Step!
______________________________________________
_______________________________________________
Area rugs come in all shapes, sizes and colors. They can be used on any surface and in any room or hallway in your home.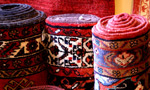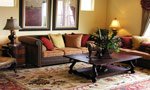 But before you select yours, first determine the role you want it to play.
Do you want it to be the focal point? In this case, you'll want an area rug with bold, bright, and contrasting colors. You might even consider making a dramatic statement with a round shaped rug.

Do you want it to define a furniture grouping? If so, make sure that it will be large enough so that all pieces within the focal area partially or completely touch the rug. In this way the area rug defines the conversational area by creating a tiny island.

Do you want to use it to enhance the room's color scheme? Then select a rug that captures the room's dominant or accent colors.

Conversely, you might also select a rug with contrasting or livelier colors if, for example, you have a room with a very subdued color scheme.

However, don't select a busy area rug if the room's color scheme and patterns are busy as well.

Do you want it to add warmth and texture to the room? Then select a rug with warm, neutral colors. Such rugs are ideal for separating zones in homes with an open floor plan.
Once you've determined the purpose of the rug, you'll want to get the right size. So get out your tape measure and jot down the size of the area you want to cover. Consider arranging the area rug at an angle for impact.
As you search for area rugs, you may find one that has the perfect color scheme but is a bit smaller than you hoped. Be very careful...
The last thing you want to do is to purchase a rug that is too small for the space. You will be much better off if you fall in love with a slightly larger rug than a smaller one.
Obviously the area rug you select is a matter of preference. Decorators tend to gravitate to oriental rugs because they come in a myriad of colors, patterns, sizes and prices.
Oriental rugs come from both the Near and Far East. The most recognized are Chinese, Turkish, Caucasian, Indian, and Persian.
Area rugs are generally made from wool, silk, olefin (polypropylene), nylon or some blend of these. Wool and silk rugs tend to be the priciest, but there are always sales.


Use this handy glossary to help you select the right area rugs for your home interior decorating project:
GLOSSARY
Handmade - Constructed by hand. Does not necessarily mean hand-knotted.
Hand-knotted - Woven by hand. A weaver actually knots the yarns by hand that make up the pile around the warp yarns that run the length of the rug.
Hand-hooked/hand-tufted - Usually refers to area rugs made by craftsmen who insert yarn into a backing according to a pattern with a handheld tool. The pile of a hand-hooked rug is made up of loops. A hand-tufted rug has a cut pile surface.
Aubusson/Tapestry Weave - A hand-woven method originating In France in which the "stitches" on the face look more linear, and the back may look "stringy" This occurs when the weaver changes yam colors.
Flatwoven - Woven rugs that have no pile. Dhurries from India are usually made of cotton or wool. Kilims are generally finer, tapestry-like flat-weaves.
Knot Count - The number of knots in a square inch of rug. Handmade Chinese rugs are often described in terms of "line". For example, a 65-line rug would have 65 knots per foot of width, 65 knots per foot of length, and 29 knots per square inch.
Knotted Quality - The amount of knots in 9/10 of an inch of a rug's width and the amount of knots in 41/2 inches of the rug's length, multiplied together and divided by 4. A practical method? Turn the rug over to see if it looks finely crafted or sloppy, regardless of knot count.
Needlepoint - Rugs that are generally made with wool yarns worked on a canvas grid, using the same method as stitching a needlepoint pillow.
Machine-made - Constructed on an electrically powered machine, now usually computer controlled.
Wilton and Axminsten - Two types of machine loom which originated in Europe. The looms are used to weave area rugs in multi-colored patterns.
Tufting Machines - A technology invented in the United States in which yarn ends are placed into a backing. Most wall-to-wall carpet in the United States is tufted goods. Some rugs are also machine-tufted.
Abrash - A change or variation in the color of a rug due to differences in the wool or dye bath. In older or antique rugs, abrash occurs naturally. In new rugs, both machine-made and handmade, abrash is carefully created to mimic a vintage look.
Contemporary - Modern designs that can be "soft" or "hard" depending on patterns and colors.
Field - Designates the central part of a rug design that is surrounded by a border.
Traditional - A styling designation that usually refers to either traditional Oriental/Persian patterns or traditional European patterns.
Transitional - A more casual style that falls between traditional and contemporary.
Kilims - Flat weave area rugs in geometric designs and strong colors made in the Near East.
Navajo Rugs - Flat weave rugs in geometric patterns woven by Navajo Indians in the American Southwest.
Dhurries - Flat weave rugs, usually with floral designs, made in India for wool or cotton - originally for use on summer-house floors.


For more ideas related to this topic, try the links below.


Click here for more great ideas to help you with your home decorating! And if you know someone who could benefit from these tips about area rugs, please click on the Facebook and Twitter buttons below.