How To Find The Perfect Hardwood Flooring Solution For Your Home
___________________________________________
____________________________________________
Whenever I see hardwood flooring in a home, I'm often overcome with a feeling of warmth. Wood floors convey a certain elegance that you won't find in any other style of flooring.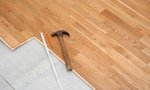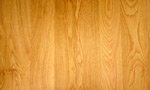 And besides its natural beauty, hardwood floors come in a variety of finishes that will give any room unique character and charm.
If wood flooring is part of your home interior decorating plans, this information will provide tips for finding the right type for your home.
First of all, there are two types of wood flooring: solid wood and engineered wood. Once installed, it is very difficult to tell the difference between the two. However, each does have inherent characteristics that you should consider before you buy.
Solid Wood
Solid hardwood flooring looks good and feels warm underfoot. It comes in basically two configurations…planks and parquet square tiles.
Planks are cut in various lengths and widths. And parquet square tiles come in a variety of patterns, some of which are very elaborate and classic. While you could install a solid wood floor yourself, I strongly recommend that you find a professional for this job.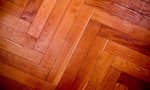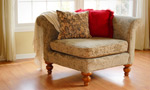 One distinct difference between solid wood and engineered hardwood flooring is that a solid wood floor can be refinished several times over the years, but an engineered floor can only be refinished once. (Note: If the hardwood flooring is a "floating" floor system, it cannot be refinished.)
Oak is the most commonly used hardwood, but maple birch, cherry, and beech are also available. Some woods are softer than others and therefore will dent or scratch easier. The table below rates the relative hardness of the major wood species.
The ratings were done using the Janka Hardness Test, which measures the force needed to embed a .444 inch steel ball to half its diameter in a piece of wood. The higher the number, the harder the wood. Please note that other factors such as construction and finish also play a role in the determining the durability of your hardwood flooring.
Wood Species and Rating
Douglas Fir - 660
Southern Yellow Pine (short leaf) - 690
Southern Yellow Pine (long leaf) - 870
Black Cherry - 950
Teak - 1000
Black Walnut - 1010
Heart Pine - 1225
Yellow Birch - 1260
Red Oak - 1290
American Birch - 1300
Ash - 1320
White Oak - 1360
Australian Cypress - 1375
Hard Maple - 1450
Wenge - 1620
African Pedauk - 1725
Hickory - 1820
Pecan - 1820
Purpleheart - 1860
Jarrah - 1910
Merbau - 1925
Santos Mahogany - 2200
Mesquite - 2345
Brazilian Cherry - 2350
Engineered Wood
Engineered or pre-finished hardwood floors are generally comprised of 2,3, or 5 thin sheets of wood that are laminated together to form one plank. These floors will range from 1/4" to 9/16" in thickness, and from 2 1/4" to 7" in width. The lengths will be random and range from 12" - 60" in length. The top finish layer can be cut from a variety of domestic or exotic hardwood species.
Engineered hardwood flooring looks almost indistinguishable from the real thing, but it is not as durable.
The good news is that it is less expensive than solid wood flooring and, in most instances, you can install the flooring yourself. However, because engineered flooring is thinner you should be sure to ask whether it can be refinished.
If you plan on being in your home for many years, I recommend that you install solid hardwood flooring in your primary rooms such as living room and dining room. And if you want to save money, install engineered wood flooring in secondary rooms such as children's rooms.
Eco-Friendly Alternatives To Hardwood Flooring
Before you lock in your decision to purchase hardwood flooring, consider some of the "green" alternatives. They are just as beautiful and are usually much cheaper. Check out this video.
Taking Care Of Your Hardwood Flooring
If you have pets or children, protecting your hardwood flooring from scratches and moisture will be a challenge. However, follow these do's and don't to minimize the risk of damage:
Vacuum Regularly - Mud and gritty dirt tracked in from outside can scratch the finish off your hardwood flooring. Keep dirt off your floor by vacuuming it with a soft bristle brush attachment.

Don't Damp Mop - You may be tempted to quickly run a damp mop across your hardwood flooring. Don't do it! Make sure that you only use the manufacturer's recommended cleaning products and procedures.

Wipe Spills Immediately - Spills, splashes, and splats. Water and hardwood flooring don't mix. When accidents happen and some liquid gets spilled on your floor, you should use a slightly damp white cloth, or paper towel to immediately wipe it up. .

Use the Proper Chair Glides - Make sure that furniture coasters and protectors are used underneath the feet of all furniture pieces. Narrow wheels, sharp wooden legs or metal furniture legs can scratch and dent hardwood flooring. Purchasing floor protectors is a small price to pay to protect your investment.

Don't Use Oil Soaps - Some over the counter oil-based soaps and wax-based cleaning products can damage or dull the finish of your wood floor. I strongly recommend that you stick with the manufacturers suggested cleaning products.

Never Wax a Urethane Floor - If your hardwood floor has a polyurethane finish, never use a paste wax on the floor's surface. A paste wax may form a sticky film on your floor and allow tracked in dirt to stick to its finish. In addition, polyurethane finishes will not adhere to any wax and adding a fresh coat of polyurethane to your floor will be very difficult.


I hope this information on hardwood flooring has been helpful. For more information related to this topic, visit these links.


Click here for more great ideas to help you with your home decorating! Do you know someone who is considering buying hardwood flooring? If so, click on the social buttons below and let them know about this article.