Bed Comforters: Which Type Is Right For You?
__________________________________________
__________________________________________
Bed comforters are manufactured in a variety of fabric fibers. In general, more expensive fabrics have a thread count over 250 while cheaper muslins have a thread count that is under 200.
Higher thread counts mean that the fabric will be softer, more luxurious to the touch, and will often last longer.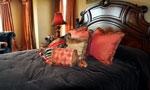 I definitely recommend that you go with higher thread count bed comforters, especially if you are updating your bedroom as part of a home interior decorating project...
After all, you deserve it!
The prices are reasonable and your body will thank you every morning :-).
In addition, I recommend that you select bed comforters that are made from natural fibers. There is nothing wrong with synthetic fibers, and they may be perfect if you have allergies, but natural fibers tend to look and feel better.
Below is a brief description of the most common types of fibers used to make bed comforters and what you can expect from each.
Types of Bed Comforters
Down Comforter - Down is widely considered to be the lightest and warmest filling available, offering superior warmth and comfort. This is why they are the most sought after bed linen products on the market today.

When searching for a down bed comforter, remember that the most expensive types are filled with pure white goose down. Less expensive models may use less down, cheaper grades of down, or down mixed with feathers.

Polyester Comforter- Polyester is one of the more common fillers. You'll find this filling in less expensive bed comforters. Also, it may be your only choice if you suffer from severe allergies.

The downside to polyester bed comforters is that they are non-biodegradable. While the fibers aren't harmful, they can't be recycled. In addition, these bed comforters will not allow the body to breathe as readily as many of those made from natural fibers.

Wool Comforter- Wool is a generic term that refers to protein fibers spun from the fleece of over two hundred different breeds of sheep, and from the hair of the angora rabbit, the cashmere goat, the camel, the alpaca, the llama, and the wild vicuña. Wool is cool in summer and warm in winter.

Cotton Comforter - Cotton comes from the fibers that develop around the seed pod of the cotton plant. "Sanforized" cotton has been pre-compressed by a mechanical process to the size to which it would shrink after washing."Mercerized" cotton has been immersed under tension in a strong solution of lye to improves the strength, absorbency, and appearance of the fabric and make it colorfast.

These bed comforters will be soft and supple and will allow the body to breathe. Make sure that the thread count is high and that way you won't have to worry about potential wrinkling.

Silk Comforter - Silk is fiber taken from the cocoon of the silkworm caterpillar. Each cocoon is spun from one continuous silk filament extruded from the caterpillar's body. Silk breathes even better than Down and is just as soft.

However, you won't be able to wash it and you should consider protecting it with a duvet cover. It would also be a luxurious alternative for those with allergies.
On the other hand, a luxurious duvet cover could be used to encase an outdated bed comforter if your budget is a little tight. ____________________________________________
____________________________________________
Need some help in decorating your bedroom?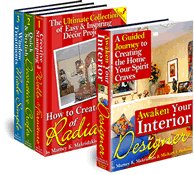 The Awaken Your Interior Designer! Collection - Brought to you by Home Decorating Made Easy, this first of its kind collection of interactive guidebooks is guaranteed to help you decorate any room in your home faster and easier than ever before. Create the private bedroom oasis that matches your style and personality without spending lots of money.
Click here for more great ideas to help you with your home decorating! To share these tips about bed comforters with friends, click on the Facebook and Twitter buttons below.