Bathroom Interior Decorating - Some Features To Consider
______________________________________________
_______________________________________________
Because of the tremendous selection of bathroom interior decorating options, you can choose from any color palette.
A bathroom makeover can be a great way to add value to your home without a tremendous expenditure. The rooms tend to be smaller, with the major components fairly uniformly defined. You don't have to call in an interior decorator to do a fashion upgrade for your bathroom.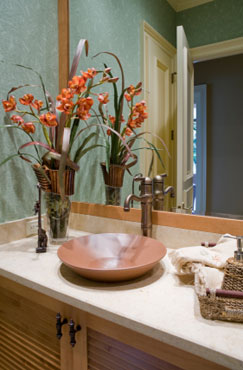 When setting out on your bathroom interior decorating project, one of the first things to consider is who will be using the space. If it is part of a master en-suite room, the look can be quite different than if it is a guest bathroom. If children in the family use a particular bathroom for the majority of their bathing, it might be a different design yet.
If you are doing a major bathroom makeover that involves changing fixtures and accoutrements you may want to think about how long you will be living in the home. If you are likely to be selling the house in the near future, don't do a bathroom interior decorating job that is so unique it makes the house unsellable. If this is intended to be a retirement home, you may want to include some elements that will make it more accessible to physically challenged individuals.
Are you planning to spend a great deal or time in your bathroom? Are you a person who prefers baths or showers? Will you be shaving your face or your legs in the room? The answers to each of these questions can make a difference in the type of decorative elements you add to the bathroom.
Important Bathroom Interior Decorating Elements: Color, Safety, And Storage
A surprising element of the bathroom is the color. Color can affect mood, which in turn affects your health and digestion. Pick your colors so that they are appealing to all who will be spending time there. Rather than stark white, think about moss green, bright yellow or deep burgundy. Each of these colors can be used as the basis of a unique decorating scheme that suits the users of the room.
Think about safety and health elements when decorating a bathroom. Obvious items to consider are grab rails in a tub or shower. As people grow older, they tend to have a harder time getting up and down. Slips and falls are a common problem in tubs. Sometimes the bather has a difficult time getting out of the tub. If you can't afford a new tub, consider a nice mat for the bottom of the tub that will provide additional traction.
Storage of items that are always used in bathrooms can be done with imagination and flair. Even if you don't have built in cabinets for linens, you can purchase inexpensive over tank shelving units or a mirror with medicine cabinet behind. A shower or bath caddy keeps shampoos and soaps off the tub or shower bottom.
By considering these features, your bathroom makeover can be a breeze. You can choose replaceable items such as toothbrush caddys, shower curtains and bath mats in colors to match your wall colors or to add a bright contrast. You can even switch out your small items periodically to add to the enjoyment of your space.
Click here to go back to the home page for more great home decorating ideas! Use the buttons below to share this article on bathroom interior decorating.