Bathroom Designs - Simple Ideas For Floors, Walls and Fabrics
_________________________________________________
_________________________________________________
You've found the ideal home, but the bathroom designs leave much to be desired. What was the former owner thinking?
Whatever the thoughts, they certainly didn't have anything to do with style or decor... at least not any designs that you'd ever consider.
The other features in the place are almost too good to be true. Being the smart cookie that you are, you take it anyway pushing the bothersome bathroom design to the back of your mind. Who cares... it's not as if you'll be spending all your time in there anyway.
So, you've signed on the dotted line, packed your things and moved into your new home. What a feeling, it couldn't be more perfect... except for those hideous bathroom designs. They won't stay in the back of your mind and are driving you decor delusional.
There has to be a way to update the bathrooms that will turn them into an appealing style. Since you've just paid your down payment, closing fees, and other costs related to your move, you're about tapped-out for now in the expendable cash department. It seems that changing your bathroom designs will just have to wait.
You can deal with waiting for a year or so, it's just a matter of saving a few thousand bucks. Let's see ... just how long it will take you to save enough money to redo the bathroom designs in your home.
Well, you could skip lunch the five days a week you work, cancel your gym membership, downgrade from DSL to dialup, and forget about your hair. You won't be able to even tip the stylist, much less afford his or her services.
It would be tough, but you could do without food, exercise, and quick Internet access. However, you draw the line when it comes to saving for updated bathroom designs when it comes to your hair. No one should have to make a sacrifice like that.
Relax ... there are ways to keep all the extras and still be able to have new bathroom designs with which you can live and that you can afford. Even if you have less-than-a-shoestring budget, you can redecorate your bathrooms with this easy ABC guide.
ABC's of bathroom designs
It doesn't get any easier than this ...a simple guide of affordable, budget-friendly, creative ideas for redecorating your bathroom. Turn your bathroom into an eye-pleasing room you'll enjoy.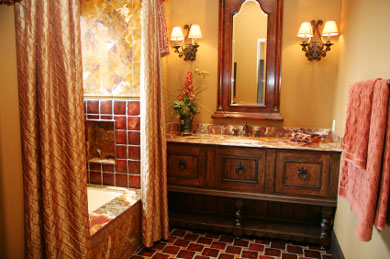 Affordable bathroom designs - floors
Let's start at the bottom here with your flooring. Visit home stores for remnants or leftover tile, linoleum or carpeting. If you can't install the materials yourself, look for small rugs or carpet samples that you can use as rugs. If the floor happens to be wood paint is an easy choice. You can use stencils to create designs or objects such as seashells or other items that reflect your chosen decor.
Budget bathroom designs - walls
The easiest and most economical way to give a needed revival to bathroom walls is to paint them. It may sound too simple and even boring if you're a big fan of wallpaper. This is where you can be very creative in your bathroom designs though, even just using one color. Visit a store that sells paint and look at some of the newer colors.
You'll find the same shades of summer sunflowers, pretty-in-pinks and other perfect pickings from which to choose.
Creative bathroom designs - fabrics
You don't have to invest in made-to-measure pieces to create an original look in curtains. Even if you don't sew look for materials in cloth departments and discount fabric stores. They always have remnant tables or bins with varieties of leftover cloth available at deep discounts.
With the right material, you can create an incredible window dressing simply by draping the fabric over the curtain rod in an arrangement that fits your style and securing it with hidden safety pins.
Click here to go back to the home page for more great home decorating ideas! Share these tips about bathroom designs. You'll find the social media buttons below.