Bamboo Shag Rugs - A Great Way To Go Green
by Scarlett
(Houston, Texas)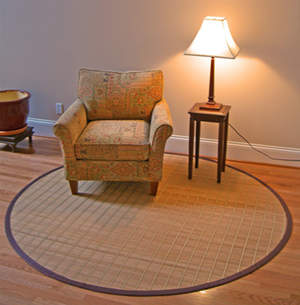 Ever heard of bamboo shag rugs? If you are looking for "green" products to use in your home, you cannot overlook environmentally friendly bamboo rugs; unarguably the latest innovation in environmentally friendly home decor. In addition to floor boards that look like traditional hardwood floors, there are bamboo rugs and there are now bamboo shag rugs. Whatever your choice for floor coverings, there is a bamboo solution for it. There are several benefits to using bamboo other than the obvious benefit of being so environmentally friendly.

Bamboo grows in abundance in the Anji mountain range, which has a special significance. No panda bears live at this altitude, which means using the bamboo from here does not threaten the panda's habitat. Moreover, the mountains get very cold in the winter time and it stays frozen for at least two months of the year, which produces a much harder more durable bamboo than in other climates. The range of bamboo shag rugs that originate from this region will add freshness and a natural touch to even the most modern home.

It is often hard to believe that something we just see as trees can be made into such a beautiful flooring solution. They really do have a super soft luxurious pile to them that is actually softer and silkier than a traditional wool rug. Additionally, bamboo is naturally non-allergenic so for people with allergies to wool won't need to worry about itchy feet. There is nothing more uncomfortable than standing or sitting on an itchy carpet!

The manufacturers of bamboo shag rugs blend cotton fibers in with the bamboo fibers to make longer, stronger threads. When these threads are woven together they create a stronger carpet that's more durable than most other fibers used to make carpets. You don't even need to purchase padding for bamboo shag rugs, because they are soft enough without them. Since bamboo trees are naturally resistant to insects and mold, so there is no real need to treat the trees with pesticides or other harmful chemicals. Due to their natural resistance to water, they are easy to clean up with a damp rage, and they dry very quickly.

Bamboo shag area rugs are very easy to dye to match any decor you currently have. Additionally, they are more durable than most other rug fibers and a good bamboo rug will last for many years. Bamboo shag rugs are one of the best ways to add a new degree of luxurious beauty to your home. It is also good to know that you are being as environmentally friendly as possible when you purchase bamboo creations, from rugs to many other home furnishings and accessories because the bamboo plant grows as much as ten feet per year so it regenerates very quickly.

Grown all naturally, with no need for dangerous chemicals or pesticides, being naturally hypo-allergenic and because they are so very strong but flexible makes bamboo creations perfect additions to your home. Bamboo shag rugs are certainly making their way on to the home decor scene. They work perfectly in any room and they are very stylish in design, which make them a wonderful choice for any home.

Visit these links for more information about bamboo shag rugs and bamboo area rugs.