Shabby Chic Bedding - Sinking InTo Comfort
Shabby chic bedding is the kind your grandmother used to have; remember those visits to her house, when you would run to your room and find the bed pulled down for you?
The fabrics were soft and you could just sink into the bed. You always got a good night's sleep there. That's because of this style bedding. It is plush comfort and understated class.
When you sleep in a bed piled with this style, you'll never want to get out.
Shabby chic bedding is composed of certain rules; this isn't simply finding an old blanket and yelling, "Finished!" No, this is about achieving a look of utter comfort. To truly create shabby chic bedding, you need to remember the rules:
No dark, bold colors. You cannot call it shabby chic if it overwhelms. Shades like black or deep purple do not conform to the idea of shabby chic bedding. Instead, use pastels and muted tones (pinks, greens, light blues, etc.). You want a bed that looks inviting, not overpowering.
Use patterns: shabby chic bedding is rarely one color. Instead, most comforters are patterned, though they still use the soft colors with their patterns. Finding bedding with flowers, plaid stripes, bubbles, etc., will create an optimal look of invitation.
Your bedding should use delicate designs and looks. This will give your bed a warm and comfortable appeal.
Finding the right fabric: most shabby chic bedding uses poplin, chintz, cotton or linen as the fabric of choice. These are soft to the touch and still decorated in the appropriate way. When you see these, you want to reach out and touch them; they should look welcoming.
It is all in the details: shabby chic bedding is more than just bedding. It's carrying the idea of comfort throughout the entire area. Using plush comforters, crisp sheets, lots of pillows for compliments, bed ruffles or pleats, etc., will just add to the look.
You do not just want a pretty bedspread. You need to add to it. Shabby chic bedding is all about adding on and creating more details to make a final product of ultimate lushness. That being said, do not overdo it. This is about comfort but, also, practicality.
Piling on twenty pillows, each with frilly shams, and having four layers of covers is not the wisest of choices. You do have to sleep here so you need to keep it manageable.
Use accessories that add to the look without overpowering your bed.
Shabby chic is all about the final reaction--it makes you want to hurry to your room and plop down on your bed; it makes you want to snuggle under the covers with a good book and a cup of tea; it makes you want to enjoy your room, rather than just sleeping in it.
It makes you remember how good those night at grandma's really were. Shabby chic bedding is plush, comfortable and stylish, the perfect compliment to a room and your life.
More Home Decorating Ideas - Recommended Reading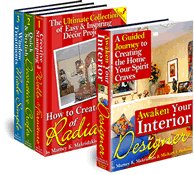 (1) *NEW* The Awaken Your Interior Designer! Collection - Brought to you by Home Decorating Made Easy, this first of its kind collection of interactive guidebooks is filled with lots of home decorating deas. Create the warm, inviting bedroom of your dreams easier and faster than ever before without spending lots of money.


Click here for more great ideas to help you with your home decorating!