Persian Rugs Bring Rich, Exotic Air to Home Decor
by Scarlett
(Houston, Texas)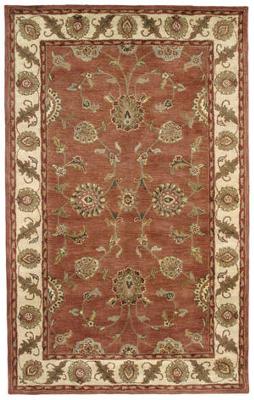 persian rugs
Persian rugs may well be the epitome of style, elegance and quality in home furnishings. From humble beginnings among nomadic tribes of the Middle East, these rugs are treasured as heirlooms and sold in international auction houses as precious works of art.

Today's spectacular Persian rugs are the descendants of a textile tradition that goes back for centuries. Middle Eastern nomads wove the oldest ancestors of these beautiful floor coverings to provide flooring for their tents. Westerners became aware of these magnificent creations during the Crusades, and many a Crusader brought back Persian rugs among his plunder.

Some of today's most highly prized Persian rugs date back hundreds of years and have earned their rightful place as works of art the world's most prestigious museums. The name "Persian rug" even harks back to ancient times. The country and culture known as "Persia" stretched across parts of modern-day Turkey, Iraq and Iran, where the finest of these oriental Persian rugs are still made.

In contemporary times, the intricate patterns and vibrant colors of these masterpieces have made them the quintessential element of the finest in home decorating. The deep pigments of these works of art make them ideal for harmonizing a room's color scheme. Persian rugs work with almost any decor with the exception of ultra-sleek styles such as Modern and Contemporary. And because this craft has existed for centuries, their designs have changed with succeeding generations of weavers.

What's more, these splendid floor coverings are made with such craftsmanship that they last for generations. Many area rugs of this style are believed to reach their peak of quality starting at about 40 years old. Some antique handcrafted pieces are worth thousands of dollars, and others often show up in family estates or as bequests in wills. In fact, it's highly likely that a rug from Persia will outlast its owner, and possibly even several generations of descendants.

The finest Persian rugs are still made by hand, each fiber knotted individually by a master rug maker, often a woman. Many traditional pieces in this style are designed with a central medallion in a neutral field, surrounded on the edges by an intricate border of rich jewel-toned colors. Traditional color schemes center on red, black, gold, tan, olive, and forest green, the kinds of pigments available to the original rug makers. Today, home decorators also will find rugs with shades such as cream, tan, yellow, blue, orange, and white. These intricate patterns are made using a combination of fibers in soft silk and wool, created in a wide range of sizes and colors by the hands of an artisan. Thus it's possible to find the perfect rug for any color combination.

However, such handmade quality comes at a rather high price. For those who love the style of these exotic rugs but can't afford the expense, there are many makers today who also use machines to weave rugs in the similar tradition. Some specialized lines of machine-made Persian rugs precisely reproduce antique motifs such as all-over scatter pattern known as Afshan, the central ornate medallion and the Herati, which has a tightly woven central pattern surrounded by a similarly tight border.

Whether made with 100 percent wool (the softest, most durable version), a combination of natural fibers or even in synthetic materials, a Persian rug makes any room memorable.

We hope you found this information helpful. Click on the highlighted links to learn more about oriental rugs and area rugs. For more information on flooring related topics, visit the following links.