Prevailing Master Bath Layout And Designs
_______________________________________________
________________________________________________
The master bath layout has grown increasingly in larger dimensions in recent years.
Floor plans that once included an adequately simple, yet convenient master bath have been redrawn to feature master bathroom suites.
The early typical master bath layout was uncomplicated. It was a convenient luxury of sorts that was primarily used primarily by the adults in most homes. This allowed a couple the privacy and ease of bathing and showering in a bathroom separate from other family members.
Generally more functional than luxurious, the master bath layout was based upon minimal requirements. It required only enough floor space to accommodate a sink with a vanity, a full-size tub with a shower, and a toilet.
Additional features that added a bit of luxury to the typical master bath layout were small linen closets for added storage space or a separate shower stall.
Considering the trends in master bath layout today, it's apparent that there has been an enormous amount of progress in designs. No longer is the master bath considered an option, but a given and expected standard in any quality floor plan, even in those of smaller homes.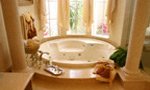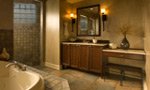 Depending upon individual tastes, a master bath layout can include any number of personally-appealing elements.
The idea in today's floor plans is to create a complete and separate suite rather than simply a full-size bathroom located adjacent to the master bedroom. This master bathroom suite is often a masterpiece in itself.
2 Master Bath Layout Trends
1. Ultimate or excessive in master bath layout - you be the judge.
When it comes to personalization the master bath is certainly an easy pick. What better room for indulging yourself in a leisurely afternoon of relaxation?
The fashionable modern master bathroom layout has taken its cue from other rooms. Years ago, it was only accessible through one door, which was located inside the master bedroom. While this feature certainly indicated privacy, it also imposed limitations.
Today's master bath layout may have several doors, depending upon its design. At one point, the large spa tub accented with live green plants was all the rage.
Going even further to bring the great outdoors inside, architects have created designs that feature inviting entrances into a private atrium adding an entirely natural dimension to the master bath layout with additional luxury amenities such as Jacuzzis and hot tubs.
Additional elements to this design could include a bistro-style table with chairs. This style of master bathroom layout becomes a serene spot for morning coffee and contemplating the day ahead surrounded by nature.
At the day's end, it's perfect for enjoying quite conversation and an intimate cocktail hour after a relaxing soak in the hot tub.
The ultimate winter warm up can be found in the master bathroom layout that also features a fireplace. A soothing sense of comfort is enjoyed whether the fireplace is located inside the main area of the suite or in the atrium.
In either case, the fireplace adds a very cozy and romantic touch to the master bathroom suite.
2. Duality in master bath layout - accommodating the sexes
With the prevailing designs in the master bathroom suite, there is finally enough room for couples to enjoy equality in amenities. Even though couples shared earlier floor plans in this coveted space, inevitably, one of them always seemed to have a territorial edge, typically the person who was most concerned with personal appearance and grooming.
Today's master bath layout considers the needs of each individual equally. It provides all the functional and luxury components not only required but preferred by both people. In general, the master bathroom suite includes such amenities as...
Separate dressing areas

Separate grooming areas

Walk-in closets with built-in drawers and cabinets

Private toilet areas

Individual full-length mirrors
_____________________________________________
______________________________________________
More Home Decorating Ideas - Recommended Reading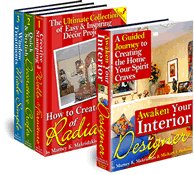 (1) The Awaken Your Interior Designer! CollectionBrought to you by Home Decorating Made Easy, this first of its kind collection of interactive guidebooks is guaranteed to help you decorate any room in your home faster and easier than ever before. You'll find lots of interior decorating ideas to create unique spaces that fit your family's lifestyle without spending lots of money.

I hope these master bath layout ideas have been helpful. Click here to go back to the home page for more great home decorating ideas!