Paint Colors For Kitchens
by HDME Staff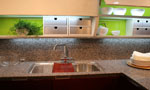 Need a few tips for choosing paint colors for kitchens? The kitchen is possibly the most difficult room in a home for which to decide on a color scheme. When choosing paint colors for kitchens, one must coordinate with the appliances and floors as well as counter tops and cabinets. In addition, it is necessary to decide what sort of mood one wishes to create in the kitchen. Some want the kitchen to be a relaxing place while others want the kitchen to help energize them.

The first step is to select the mood of the room. This choice will help eliminate certain colors because one will not want vibrant, energizing colors in a room that is supposed to be a place to relax or vice versa.

The next step is to choose a range of paint colors for kitchens that will match the kitchen fixtures. Counter tops, cabinet doors, and floor all contribute to overall color scheme in a kitchen. The color appliances are finished in is another major consideration. One will want to choose paint colors for kitchens that are harmonious with all of these things.

Next, one should look at the paint colors for kitchens that have been determined to match the present fixtures and select those that actually appeal to the individual. Once the process is completed, one should have two to six colors that set the mood desired, match the rest of the kitchen, and are liked by the person who will be spending the most time in the kitchen.

As a final step, one should obtain small amounts of the remaining colors and apply them to small (8 inch by 10 inch) canvas palettes so that one can see the actual colors and try them in different areas of the room without placing several different colors on each wall. Using the sample palettes will allow one to move the colors around until the combination seems to be right.

Choosing paint colors for kitchens in this manner will make the entire process easier and should result in a room that the owner will find very pleasant and will enjoy the time spent there.

Eliminating paint colors for kitchens by the mood they set, how well they match what is already there, how well they are liked by the individual, and finally, where they will be used in the color scheme assures the home owner that she will have a comfortable kitchen in which to prepare meals and/or spend time during the day and evening.
Join in and write your own page! It's easy to do. How? Simply click here to return to Kitchen And Dining Room Articles.