How To Save Space In A Child's Bedroom
by Scarlett Lovitt
(Houston, Texas)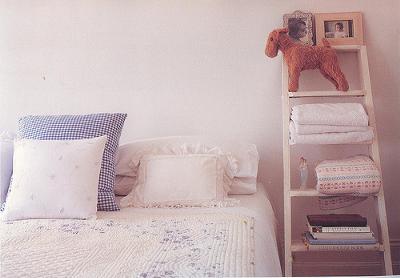 Boys are girls can accumulate several items over the year. If you don't have a certain place reserved for all of the items it will eventually begin to seem overwhelming. If you are looking for space saving features for a child's bedroom, it may be simple to do and cost effective as well.

One of the best space saving tips is to work below and sleep above. This means that you need a bunk bed or loft bed so you can clear out the space below and redesign it to be a great area for work or play. If the bedroom is small this will be ideal.

Another option is the double deep double-sided bed, like a captain's bed. This allows you to use the top for sleeping and drawers underneath for storage. Now you can tuck everything in its place and they will still be able to find their beds at night.

Storage Needs

You will need to figure out where everything is going to go. In order to do that you need to make sure that you use every corner possible in that room. You can purchase plastic crates and baskets that can hang up on the wall for extra storage. Place clothes in these baskets and make them easy to reach. You can also place storage baskets inside their closet. This will allow you to organize their closet and help keep everything where they need it. There is a place for everything.

Shelves are important as well. There are books to put up and toys to display. There is no better place to do that than these shelves. You can place shelves on the wall above the bed, dressing table, and play area.

Finishing Touches

You will need a way that you can decorate the walls in the bedroom that won't look too distracting or flashy. Use their artwork as part of the wall decor and place it at their eye level when hanging. Use a bulletin board around their desk area so they can keep track of schedules and notes to remember.

Try to work a small bookshelf in their room. You can purchase a small rug to sit down in front of the shelf. They can sit on the rug while they read a book. If the bookshelf doesn't have a back to it, you can also use it to store some toys.

Always allow them to help you in decorating their room. They are the ones who will be staying in the room so they should have some input. You can both decide the final look together.

You will need to place a few area rugs down in the room. Place one at the foot of the bed, one in front of the closet, and one in front of the dresser. You can use calming colors like white rugs or you can go all out and use orange area rugs. For little cowboy or cowgirls, you can place southwestern rugs down instead.


Join in and write your own page! It's easy to do. How? Simply click here to return to Bedroom Articles.