Decorating Bedrooms: It Starts With Choosing A Style
_________________________________________
_________________________________________
Ideas for decorating bedrooms range from simple to extravagant. This is also true with the cost associated with varying designs. Even basic decor can come at a hefty price if you hire a professional interior designer.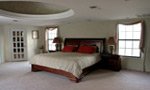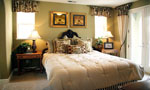 This is especially true if the designer has a significant reputation for being an expert in a particular style of décor.
In general, the more established and prestigious the designer's reputation is in decorating bedrooms the higher the cost of his or her talents and services in bedroom décor. If hiring a professional interior decorator isn't an affordable option for you there are many other options you can explore for assistance.
Being limited by budget doesn't mean that you don't have easy access to relevant skilled expertise in ideas for decorating bedrooms at all. It simply means that you'll have to determine what options are available to you.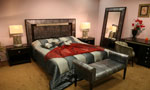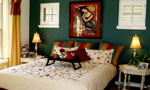 Even if you don't know which style of bedroom décor is most appealing to you and best suits your lifestyle, you don't need anyone else to decide that for you.
In fact, that's not the job of a professional interior designer.
What you do need is a basic understanding about the various styles of decorating bedrooms and your feelings and/or responses to them. It's difficult to choose a style of décor if you don't genuinely understand some of the fundamentals of about them.
No cost ways to learn about styles of decorating bedrooms
Pick up a copy of free local real estate guide. As you review the photographs of homes that are on the market you'll see bedrooms of various styles. Many of these photos will have brief descriptions indicating a particular style, such as Tuscan, Country, or whichever décor is represented. You'll find that certain styles appeal to you more than others.
Visit a local furniture store and stroll through its displays. As you view and consider the various arrangements or groupings of furniture make note of the styles used for decorating bedrooms in various themes. Many furniture stores even display their bedroom suites by style or category.
Look for signs that indicate specific furniture collections for decorating bedrooms such as these:
* Contemporary Bedroom Furnishings.
* Traditional Bedroom Furnishings.
* Country Style Bedroom Furnishings.
If you visit a small, local home furnishings store for creative ideas about decorating your bedrooms it may not have its bedroom suites displayed by style. In the event this is the case and you don't want to ask for assistance you can easily determine which style of furnishings you are viewing by observing the various accent pieces used in the arrangement.
Accent traits in decorating bedrooms of various styles.
Nearly always, there are universal components that represent certain styles of decor. The use of varying distinguishing accents signifies and enhances any style.
Making note of these identifying accents will allow you to easily determine a style of decor, particularly if you have difficulty distinguishing one type of style in decorating bedrooms from another style of decor.
Tell-tale signs of styles for decorating bedrooms.
Contemporary - sleek accents in acrylic, marble and stainless steel.
Country - welcoming accents in earth tones and primary mixes.
Shabby Chic - simple accents complimenting light, natural wood.
Southwestern - desert accents mixed with hues of red and yellow.
Traditional - sophisticated gold and brass accents on vibrant wood.
Tuscan - natural accents featuring basic stone and unfinished metals.
By the time you have determined which preference is truly yours in bedroom decorating styles you will be well on your way. Combine the various ideas you have seen to create your own original version of your preferred decor.
For more bedroom decorating ideas, check out this short video.
More Home Decorating Ideas - Recommended Reading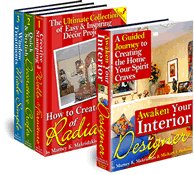 (1) The Awaken Your Interior Designer! Collection- Brought to you by Home Decorating Made Easy, this first of its kind collection of interactive guidebooks is guaranteed to help you decorate any room in your home faster and easier than ever before. You'll find lots of home decorating ideas to create unique spaces that fit your family's lifestyle without spending lots of money.
Click here to go back to the home page for more great home decorating ideas! To share these tips on decorating bedrooms with friends, click on the social buttons below.