Childrens Bedding: Safety Tips
_______________________________________________
________________________________________________
As hard as it is to believe, childrens bedding plays an important role in the health and well-being of your child.
For example, many times we assume that if a manufacturer sells childrens bedding it must be safe. But all too often when tragedy strikes we find that this is not the case.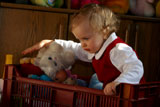 Alternatively, you may find that your child has become allergic to something. Well, guess what? Their bedding could be the source and it could be making their condition worse.
Childrens Bedding Tips
Use the following tips to make sure that your childs bedding is doing more good than harm:
Infants
The Consumer Product Safety Commission (CPSC) has issued a recommendation for parents to not let their babies sleep on soft bedding. This includes pillows, comforters, sheepskins, and quilts. Such products have been found to suffocate infants.
The CPSC recommends the use of thin childrens bedding such as "receiving" blankets for infants. These are the blankets that are used by hospitals to wrap babies.
When buying a blanket for your infant, make sure that the stitching has no loops or loose threads that could catch on a child's fingernails or clothing. You should also avoid blankets that use the "fishing-line" type thread and any with long fringes. (Note: Never buy an electric blanket for an infant.)
Make sure the sheet fits tightly and cannot be pulled loose by a toddler. Several children have died because they we entrapped in loose fitting crib sheets and childrens bedding.
Do not place your baby on a waterbed for sleeping.
If you use an egg-crate shaped mattress cover for your bed and your infant occasionally sleeps with you, please note that this can be dangerous. The egg crate shape can mold itself around a babies face and cause suffocation.

All Children

To fight allergies, you should wash your childrens bedding in hot water and dry it in the dryer every week to help eliminate dust mites.
To further reduce dust mites, encase childrens bedding such as pillows, mattresses and box springs in allergen-proof, zippered covers. You should then tape over the zipper to seal the enclosure.
To avoid asthma, select pillows made of Dacron or other synthetic fiber. Do not use foam, feather, or down pillows.
Stuffed animals are a common home interior decorating accessory on kid bedding. Allergies can be avoided by purchasing washable stuffed animals.
Click here for more great ideas to help you with your
home decorating!
And if you know others who could benefit from these tips on childrens bedding, click on the Facebook and Twitter buttons below.